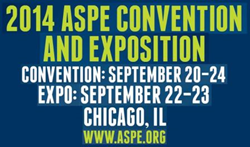 ASPE is dedicated to enhancing the growth of professionals in all facets of the plumbing industry.
Toledo, Ohio (PRWEB) August 29, 2014
On September 22nd and 23rd, MR Direct will be one of over 300 participants in the American Society of Plumbing Engineers, (ASPE), 2014 Convention and Exposition in Chicago, IL. Considered one of the premier annual events designed for the plumbing professional, this year's show is certain to meet and surpass expectations. Educational sessions, lectures, and workshops will be featured, in addition to the stellar exposition of products and services. ASPE is dedicated to enhancing the growth of professionals in all facets of the plumbing industry and this show brings new techniques and products to the attention of industrial and residential designers, architects, and any variety of contractors who specify plumbing requirements.
For those involved in the evaluation and selection of plumbing fixtures for commercial or residential projects, MR Direct will be displaying its newest, trending sinks and faucets in a cross section array from all of its distinctive collections. Stainless steel, porcelain, TruGranite, as well as copper, stone, bronze, glass and bamboo vessel sinks will all be on site for a hands-on appraisal. Faucets for kitchen and bath, in traditional and contemporary styling, likewise will be showcased.
The breakthrough technology of MR Direct's Home Reality App will also be available for visitors to experience. Using Home Reality on an iPad or Android, guests can scroll through the entire MR Direct catalog of sinks, and an extensive library of countertop patterns, viewing their selections in any kitchen or bath setting of their choosing – virtually. Professional designers are sure to appreciate the ability to see-before-purchasing any combination of sink and counter, on-site; which is precisely the benefit this innovative MR Direct-engineered app provides.
A visit to Booth #2636 in Chicago's McCormick Place Lakeside Center will introduce any guest to a company which presents excellence in design, construction, and functionality of its products; is supported by a team of knowledgeable professionals, and offers unmatched pricing.
The full MR Direct story can be learned by visiting http://www.MRDirectint.com.