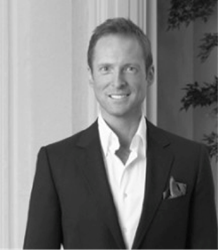 Manhattan, NY (PRWEB) September 03, 2014
Andrew Flesher is known for his ability to mix modern and classic elements and will serve as the network's exclusive partner for the Upper East Side, NY market.
Andrew Flesher's professionalism, years of experience, willingness to meet the needs of clients, and ability to seamlessly complete projects sets the precedent for other interior designers in the field.
About Andrew Flesher:
With offices in New York and Minneapolis and projects spanning from a sprawling new home in the Utah slopes to a two-bedroom prewar apartment in the Big Apple, Andrew Flesher Interiors strives to approach design from the inside out—first by ensuring that a space works, then imbuing it with livable luxury and a timeless aesthetic.
Though he's well-versed in a variety of styles, Flesher's hallmark is his ability to mix modern and classic elements. He seamlessly blends new pieces with vintage finds, and chooses both accessories and color with purpose and restraint, rather than gratuitously. Instead of chasing fleeting trends, Flesher focuses on top-grade materials, unique details and long-lasting quality. And he backs up the style with substance, working closely with architects to make sure that a space has the best "bones" possible, before adding a single decorative element. Clients trust their homes entirely in his hands, because he confidently coordinates every aspect of the design process, from demolition to doorknobs.
Flesher has offices in New York and Minneapolis, working on full-service, custom residential, commercial and hospitality projects worldwide.
To learn more, visit Andrew Flesher's Haute Residence profile.
About Haute Living Design Network:
Haute Living Design Network handpicks interior designers that have demonstrated a high level of expertise, professionalism, and accomplishment in their field. This elite circle of prominent interior designers is urged to expose readers to several elements from past and current design trends, as they provide a peek into future innovations and offer both inspiration and exceptional resources for those looking to employ well-established luxury design firms and seasoned interior designers.
Andrew Flesher is featured on Haute Living Design Network's comprehensive website as a distinguished partner alongside other leading interior designers from across the country. Network partners have the exclusive chance to interact with viewers by utilizing the Haute Living Design Network platform by creating bespoke blog posts and one-of-a-kind design features. Visit the Haute Living Design Network at http://www.hauteresidence.com/design to learn more.