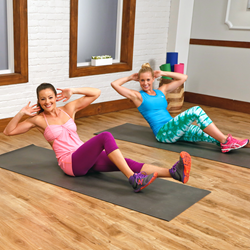 Live Streaming Fitness is the hottest new trend in fitness..says Cameron Mathison of ABC's Good Morning America
Tulsa, OK (PRWEB) August 30, 2014
LiveStreamingFitness.com, a company dedicated to providing live at home fitness classes as well as other healthy lifestyle resources, is proud to announce it has been recognized as one of the most affordable nationwide resources for at home fitness solutions by ABC's Good Morning America.
As aired in a recent featured story on ABC's Good Morning America, "Live Streaming Fitness is the hottest new trend in fitness. … Now, you can streamline your day by streamlining your workout…to boot camp at Life Streaming Fitness for less than $10.00 per month with unlimited classes. The options and classes are endless!" says GMA Correspondent Cameron Mathison.
LiveStreamingFitness.com enables anyone, on even the most modest budget, the ability to take back control of their health. Members can do this by being able to work out anywhere and anytime with socially enabled live streaming classes on any device (PCs, smartphones, tablets, and televisions). By providing members the enjoyment and freshness that comes along with live classes, an online interactive social community environment, and the convenience of watching any class On Demand at any time. Individuals and families everywhere are starting their journey to a healthier lifestyle for less than one movie ticket a month.
Owner and Founder Keith Kochner states, "Our passion was to eliminate all the obstacles that people face while wanting to live a healthier lifestyle…we knew we had to create something for the 85% of America that doesn't have the time, money, or ability to get themselves into a gym because everyone should have the opportunity to be fit and healthy. The solution…we bring the trainers and gym to you."
LiveStreamingFitness.com offers a large variety of classes including Body Sculpting, Power ABS, Cross Fit, Pilates, Running Clinics, Resistance Band Training, High Intensity Interval Training, Power Play, and children's classes. More live classes are being added every month. In addition to fitness classes there are tips and tricks, recipes, nutritional articles, and cooking classes available to all community members as well.
Brick and mortar gyms and DVD programs are the thing of the past as our society continues its quest for more affordable, convenient, and effective ways to meet their health and fitness goals. In a world in which everything is shifting into social media environments and going mobile LiveStreamingFitness.com is leading the way with the complete package with their affordable price and interactive social media community that keeps members in touch with friends, accountability partners, and wellness updates. LiveStreamingFitness.com is revolutionizing and changing the fitness industry as we know it.