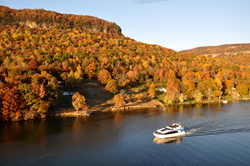 (PRWEB) August 29, 2014
People have chaotic lives filled with work, school and numerous activities. It's hard to squeeze in some quality time to just relax and recharge – even though it's a necessity. This fall, spend less time traveling and more time on your next adventure. Head to Chattanooga and explore the brilliant changing colors, crisp weather, Oktoberfest celebrations, festivals and live music, outdoor adventure sports and some thrilling Halloween experiences.
There's so much to do in Chattanooga this fall, and here are few of the top adventures that have made us earn prestigious designations like Outside magazine's Best Town EVER, one of the Top 45 Places to Visit by the New York Times and one of the five "Next Great Escapes" by Travel+Leisure magazine.
Let us know about your Chattanooga vacation by posting pictures using #AdventuresInCHA and #FallInCHA.
Get all the details on spending Fall in Chattanooga here.
FALL COLOR TOURS
Looking for some great ways to see the fall colors? Chattanooga offers options by train, boat and bicycle. And the roads are always wide open for some cruising in your car or motorcycle.

BY BIKE – View the beautiful fall foliage on a ride along the 13-mile paved Riverwalk along the Tennessee River and through the Bluff View Art District or take to the hundreds of mountain trails on Lookout and Signal Mountains. Visitors can rent a bike 24/7 from the new, first in the South, Chattanooga Bike Share System with 30 locations and 300 bikes throughout Downtown.
BY BOAT – Take a cruise into the Tennessee River Gorge, where you'll see nature's brilliant canvas of fall colors. Enjoy cruises aboard the Tennessee Aquarium's River Gorge Explorer or Southern Belle Riverboat.
BY TRAIN – Jump on board the Tennessee Valley Railroad for a variety of train rides that take you through the beautiful Tennessee and North Georgia valleys.
FESTIVALS, LIVE MUSIC & CULINARY EVENTS
Enjoy a variety of fun during one of Chattanooga's top festivals and events surrounding the riverfront or only six miles from downtown on Lookout Mountain. Events you don't want to miss include the Chattanooga Market (Now-Dec. 21), Railfest at the Tennessee Valley Railroad (Sept. 6-7), Wine Over Water (Sept. 27), the 11th Annual Oktoberfest (Oct. 18 & 19) and Rock City's Rocktoberfest (Oct. 4-26). All the downtown activities are connected via a free, electric shuttle.
ENTERTAINMENT
Chattanooga's entertainment scene is full of events that will have you weaving through the Rock City's Enchanted MAiZE (Sept. 19-Oct. 27), watching thousands of athletes swim, bike and run the most elite IRONMAN Chattanooga triathlon (Sept. 28), delving deep underground for an intense Haunted Cavern (Sept. 26-Nov. 1) or even learning about the bizarre adaptations of creepy critters during ODDtober at the Tennessee Aquarium (Oct.).
PLAN YOUR VISIT
Chattanooga is experienced best when you spend a few days and really take time to enjoy your stay. Many of the accommodations provide special fall, family or romantic packages that save you money.
COMING UP…
When Chattanooga transforms itself to ChattaBOOga in October, it's not the typical haunted venue. There's an intense haunted cavern experience; a corn maze that's friendly by day, but a heart-stopping labyrinth by night; screaming thrills in a decaying laboratory; a spooky ride aboard a haunted vintage train; hair-raising atmosfear of haunted rides; and a couple more mild experiences including trick-or-treating around your favorite zoo animals or exploring the weird, wonderful and kooky behaviors of creatures from around the world. ChattaBOOga! offers thrilling, chilling adventures that can't be experienced anywhere else.
FIND MORE INFORMATION ON CHATTANOOGA
Images
Events
Facebook @explorechattanooga
Twitter @chattanoogafun
Instagram @chattanooga_fun
# # #