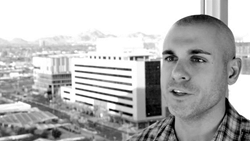 "Here at Arizona Orthotics we've always been proud of our ability to customize our care specific to the needs of the individual." - Dr. Doperak
Phoenix, Arizona (PRWEB) September 03, 2014
Arizona Orthotics is proud to announce Dr. Doperak has recently passed the National Strength and Conditioning Associations' Certified Special Populations Specialist (CSPS) examination, making him the only CSPS professional in the state of Arizona and one of eight certified professionals in the entire United States. The staff of Arizona Orthotics congratulate Dr. David on his honorable achievement, demonstrating his dedication to serving populations with unique difficulties. As a CSPS designated professional, Dr. Doperak will help his patients overcome the setbacks that have kept them from attaining their personal health and fitness goals.
The Certified Special Population Specialist (CSPS) credential was established by the National Strength and Conditioning Association in 2012 for the purpose of locating specialists apt to serve the unique needs of health-challenged groups in the U.S. CSPS professionals understand the special needs of those suffering from physical and mental health complications, including cardiovascular, pulmonary, metabolic, immunological, musculoskeletal, neuromuscular, psychological and behavioral issues. CSPS certified professionals are furthermore responsible for devising fitness and health solutions applicable to older adults, children, adolescents, and females that are pregnant, postpartum and menopausal.
According to Dr. Doperak, "Here at Arizona Orthotics we've always been proud of our ability to customize our care specific to the needs of the individual. There is no one-size-fits-all approach to healthcare and the CSPS credential proves my desire to understand the needs of special populations in order to provide them with the most effective solutions possible. I'm extremely honored to be a part of this elite group of certified professionals."
As a leader in strength and conditioning development for over three decades, the NSCA aims to reward motivated professionals for extending their expertise, learning new specializations to provide comprehensive healthcare to all individuals- no matter their circumstances or challenges. The CSPS certification was developed to provide an individualized approach to special needs clients in order to assess, motivate, educate, and train them specific to their issues, enabling them to achieve a fit and healthy lifestyle.
For more information about Dr. Doperak or Arizona Orthotics, please visit: http://arizonaorthotics.com/. Learn more about the Certified Special Population Specialist (CSPS) Certification by going to NSCA.com.
About Dr. David J. Doperak
Dr. David J. Doperak BS DC CSPS NSCA-CPT is an Arizona licensed Doctor of Chiropractic with a post-graduate certification in spine remodeling. Dr. Doperak earned his second post-graduate certification from Sole Supports™ after developing a passion for foot biomechanics and mechanical engineering. Sole Supports™ is the brainchild of world-renowned Edward Glaser, DPM who served in private practice for 13 years before earning a substantial national and international reputation for re-visioning and re-engineering the ideal way to correct poor biomechanics in the foot and lower extremity. Additionally, Dr. Doperak is a NSCA (National Strength and Conditioning Association) Certified Special Populations Specialist & Certified Personal Trainer. Dr. Doperak can be reached via email at doctor(at)arizonaorthotics(dot)com.
About Arizona Orthotics
Arizona Orthotics is your local resource for the best custom foot orthotic money can buy - Sole Supports™. Made from scratch and precisely calibrated to body weight, foot flexibility and activity level. Welcome to the next generation of custom foot orthotics. Learn more about Arizona Orthotics by visiting http://www.arizonaorthotics.com.