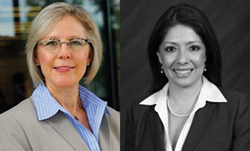 These NAHN members represent what NAHN wants for all its members – to be recognized for their dedication to their nursing careers and to the community they serve. - NAHN President Dan Suarez, RN, MA
Washington, D.C. (PRWEB) September 01, 2014
The National Association of Hispanic Nurses (NAHN) is pleased to announce that Dawn Bazarko, DNP, MPH, RN, and Adriana Perez, PhD, Rn, ANP-BC, will become Fellows of the American Academy of Nursing. They will be inducted with Immediate Past President Jose Alejandro, PhD, MBA, RN-BC, CCM, FACHE, whose induction we reported last May.
Our three members will be inducted on October 18, 2014, during the 2014 American Academy of Nursing Policy Conference in Washington, DC. NAHN will celebrate their accomplishments and those of the other NAHN members who are Fellows at a cocktail reception after the induction ceremony.
"We are so proud of the accomplishments of Jose, Dawn and Adriana," said Dan Suarez, RN, MA, president of NAHN. "As you will see from their profiles, these NAHN members represent what NAHN wants for all its members – to be recognized for their dedication to their nursing careers and to the community they serve."
Dawn Bazarko, DNP, MPH, RN, is the founder and senior vice president of UnitedHealth Group's Center for Nursing Advancement. Established in 2008, the Center supports the personal and professional development and health and well-being of more than 24,000 UnitedHealth Group nurses globally.
Over the past six years, Dr. Bazarko has also offered a number of mindfulness meditation and mindfulness-based stress reduction programs to company employees including in-person, telephonic, and drop in formats. She serves on numerous boards, including the American Nurses Foundation Board of Trustees, the University of Minnesota Nursing Foundation Board and is the community voice for the Gerontological Advanced Practice Nursing Association Foundation Board.
Dr. Bazarko is a registered nurse and holds a Master's in Public Health, specializing in environmental and occupational health and a Doctor of Nursing Practice, both from the University of Minnesota. She also received her certification as a mindfulness facilitator from the University of California, Los Angeles.
Adriana Perez, PhD, ANP-BC, is from Yuma, AZ and currently works at Arizona State University, College of Nursing & Health Innovation, as Assistant Professor and Southwest Borderlands Scholar. She is also Co-Director of the Hartford Center of Gerontological Nursing Excellence at ASU. Adriana first graduated from Arizona Western College in 1998. She then graduated from ASU's BSN, MS Adult Nurse Practitioner program, doctoral program, and completed a 2 year postdoc at ASU, so she is a diehard Sun Devil!
She was selected as a 2011-2012 Congressional Fellow, funded by the Health and Aging Policy Fellows Program, supported by the Atlantic Philanthropies and Centers for Disease Control & Prevention.
Dr. Perez has fellowship awards from the John A. Hartford Foundation National Hartford Centers of Gerontological Nursing Excellence for her pre-doctoral and post-doctoral work. Adriana is passionate about healthy aging and caring for a growing diverse older adult population. She was encouraged to become a nurse by her grandmother, who was also a nurse in Mexico.
The American Academy of Nursing's approximately 1,800 Fellows are nursing leaders in education, management, practice and research. They include association executives; university presidents, chancellors and deans; state and federal political appointees; hospital chief executives and vice presidents for nursing; nurse consultants; and researchers and entrepreneurs.
Invitation to Fellowship is more than recognition of one's accomplishments within the nursing profession. Academy Fellows also have a responsibility to contribute their time and energies to the Academy, and to engage with other health care leaders outside the Academy in transforming America's health care system by:

Enhancing the quality of health and nursing care;
Promoting healthy aging and human development across the life continuum;
Reducing health disparities and inequalities;
Shaping healthy behaviors and environments;
Integrating mental and physical health care; and
Strengthening the nursing and health care delivery system, nationally and internationally.
Other current NAHN members who are FAANs include:
Amy Barton, PhD, RN, FAAN
Mary Lou Bond, PhD, RN, CNE, ANEF, FAAN
Norma Cuellar, DSN, RN,FAAN
Bronwynne Evans, PHD, RN, FAAN
Catherine Gilliss, DNSC, RN, FAAN
Carolina G. Huerta, EdD, RN, FAAN
Angie Millan, MSN, RN, FAAN
Liana Orsolini, PhD, RN, ANEF, FAAN
Nilda Peragallo, DRPH, RN ,FAAN
Elias Provencio-Vasquez, PhD, RN, FAAN, FAANP
Norma Martinez Rogers, PhD, RN, FAAN
Maria Shirey, PhD, MBA, RN, NEA-BC, FACHE, FAAN
Mary Lou Siantz, PHD, RN, FAAN
Eloisa Tamez, PhD, RN, FAAN
Sara Torres, RN, PhD, FAAN
Antonia Villarruel, PhD, RN, FAAN
About the National Association of Hispanic Nurses (NAHN)
NAHN is actively involved in issues affecting Hispanic nurses and the health of Hispanic communities on local, state, regional and national levels. The organization is committed to work toward providing equal access to education, professional and economic opportunities for Hispanic nurses and to improving the health and nursing care for Hispanic consumers.To learn more about NAHN, please visit http://nahnnet.org or follow NAHN on Twitter @NAHNNursing.