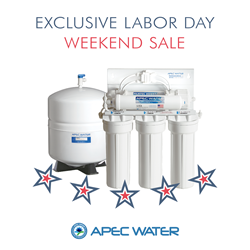 City of Industry, CA (PRWEB) August 29, 2014
Recent reports, backed by the US Bureau of Labor statistics, have suggested that Americans today are working longer hours and taking fewer vacations than ever before, leaving workers overworked and overstressed. APEC Water believes that drinking lots of purified water can help, and they are offering a Labor Day Sale on their most popular and effective water purification systems to keep everyone well hydrated and healthy. From now until 9/2/2014, customers can save up to $125 off all ULTIMATE reverse osmosis (RO) drinking water filters and an additional 5% off already discounted whole house water filtration systems.
APEC's ULTIMATE RO system prices are currently double-marked down to offer exceptional savings of up to $125 off list price for the Labor Day weekend promotion. Using American-made filters and parts, APEC ROs deliver the highest contaminant rejection rates in the industry, removing up to 99% of a wide range of water pollutants including chlorine, chloramines, lead, arsenic, fluoride, chromium, bacteria, viruses and much more. These systems are designed for low-maintenance and easy do-it-yourself (DIY) installation, making them a simple 2-hour home-improvement project for a lazy weekend. They provide families with an unlimited supply of pure, healthy and delicious drinking water comparable to expensive bottled waters.
APEC is also offering an additional 5% discount on many already discounted whole house water treatment systems and filters. Customers can choose between a single whole house filter that will treat a specific contaminant such as chlorine, iron or scale, or they can install more complete multi-system packaged solutions. By removing chemicals, heavy metals, bacteria and organic compounds, whole house filters protect users from water contamination at every bath, shower and sink in the home and will last between 5-10 years before filter replacement for low-maintenance and trouble-free operation. During this Labor Day sale, customers can save hundreds of dollars off these water systems and more. Visit APEC's website to get full details on all their Labor Day promotions going on from now until 9/2/2014.
About APEC Water
For over 17 years, APEC has been an industry leading manufacturer of high performance residential and commercial water purification systems. Based out of Southern California, APEC specializes in building the highest quality reverse osmosis drinking water systems and backwashing whole house water filters right here in the USA. The company offers their products exclusively through their website at Freedrinkingwater.com which also provides an extensive water filtration guide and library to the public. To learn more about APEC Water and the Total Solution system, please visit http://www.freedrinkingwater.com or call customer service at 1-800-880-4808 for more information.