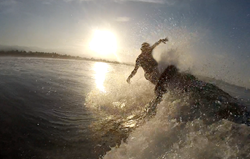 We're proud of the young talent in the community, and endorse the importance Quepos Bodyboard places not only on the sport, but on the personal growth of each of these young individuals
(PRWEB) August 29, 2014
This Saturday, August 30th, Tulemar Vacation Homes will host a fundraising event at Marina Pez Vela in Manuel Antonio, Costa Rica to support local bodyboarders heading to Chile for the World Championships in December.
A popular spot for travelers, the Quepos/Manuel Antonio area is known for it's beautiful beaches, sports fishing, and famous national park. For locals, a different kind of activity has quickly gained popularity among the youth living near the coastline - competitive bodyboarding.
The Association of Bodyboard - Aguirre, better known as "Quepos Bodyboard," is a non-profit organization that seeks to support youth bodyboarding as a sport and enhance member's development of character through education, community service, and discipline.
This won't be the first time Costa Rica's team has made it to the international level; last year's World Championships took place in Venezuela, where Quepos native Jefferson Bustos brought home the gold medal.
Representing Costa Rica's team in Chile this December are this year's highest ranked competitors in the country; Reymar Ramirez, Richard Marin, Alejandro Campos, and Mikahela Cubero.
Travel expenditures per person include airfare, lodging, meals, uniforms, and ground transportation, estimating $3,850 per athlete. The World Championships "CHILE ISA 2014" will be held from December 6-16, 2014.
Tulemar Vacation Homes, which provides luxury vacation villa rentals in the area's top rated resort will donate an acoustic benefit concert to help raise funds for the athletes. "We're proud of the young talent in the community, and endorse the importance Quepos Bodyboard places not only on the sport, but on the personal growth of each of these young individuals," says Dave Houck, owner at Tulemar Vacation Homes."They work hard in all areas, and Quepos Bodyboard has played a huge role in that."
One of Tulemar's personal concierges, Ashley Johnson, and her brother James will perform an acoustic selection of contemporary to classic hits at Marina Pez Vela's Mercato del Porto restaurant on August 30th at 7:00 PM.