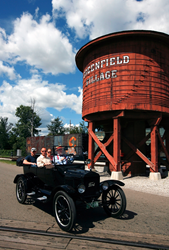 Dearborn, MI (PRWEB) August 29, 2014
Celebrate the achievements of two of the early automotive industry's biggest innovators – John and Horace Dodge – during Old Car Festival in Greenfield Village, September 6-7. After years of supplying parts to other automakers, including Henry Ford himself, the Dodge Brothers decided to go into production on their own, rolling out their first car in 1914. In honor of their 100th anniversary, The Henry Ford will host 30 Dodge Brothers vehicles in a special display on the Village Green including the company's first model from its first year in production, a 1915 Model 30-35.
During Old Car Festival, gain perspective on the evolution of the automotive industry through a display of nearly 900 automobiles, motorcycles, bicycles, campers and more dating from the late 19th century to 1932. Get up close and learn more about these vehicles that changed American culture forever.
See one of the biggest collections of Model As and early bicycles on display throughout the Village. Watch drivers show off their skills in early motor contests, witness the assembly of an actual Model T, and kick back at the pass-in-review parade where experts will provide information and fun facts about vehicles as they drive by. Join roadside historian Daniel Hershberger near the Scotch Settlement School each day for a presentation discussing the important aspect of early highway development and motoring history along with a special 1920s Auto Touring exhibit featuring a restored 1927 Auto-Kamp fold-out tent trailer, manufactured in Saginaw, Mich., and other period camp vehicles.
On Saturday, stay late until 9 p.m. to enjoy live music from The Hotel Savarine Society Orchestra, a gaslight parade of cars through Greenfield Village, and a fireworks show to close out the evening. Old Car Festival is free with membership or admission to Greenfield Village; tickets are $24 for adults, $22 for seniors (62 and up) and $17.50 for youth (5-12). Children under five are free. For more information, call (313) 982-6001 or visit http://www.thehenryford.org.
About The Henry Ford
The Henry Ford in Dearborn, Michigan is an internationally-recognized cultural destination that brings the past forward by immersing visitors in the stories of ingenuity, resourcefulness and innovation that helped shape America. A national historic landmark with an unparalleled collection of artifacts from 300 years of American history, The Henry Ford is a force for sparking curiosity and inspiring tomorrow's innovators. More than 1.6 million visitors annually experience its five attractions: Henry Ford Museum, Greenfield Village, The Ford Rouge Factory Tour, The Benson Ford Research Center and The Henry Ford IMAX Theatre. A continually expanding array of content available online provides anytime, anywhere access. The Henry Ford is also home to Henry Ford Academy, a public charter high school which educates 485 students a year on the institution's campus. For more information please visit our website thehenryford.org.
# # #