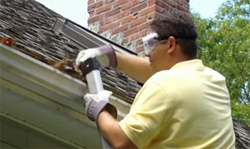 Lincoln, R.I. (PRWEB) August 29, 2014
A home should be a safe haven, but there are many dangers that can crop up if unaddressed. That's why Amica Insurance is sharing some tips to help improve safety in the home.
The National Safety Council suggests taking the following safety measures:
Kitchen

Store hazardous products – like cleaners and disinfectants – in their original containers, and keep them away from food.
Mount a fire extinguisher on a wall bracket near an exit.
Bathroom
Put slip-resistant surfaces in the shower or tub, and place rugs on the floor.
Unplug electronic appliances when they're not being used.
Living room
Keep stairs, hallways and passageways well-lit and clear of obstacles.
Secure all electrical cords.
Bedrooms
Make sure bed frames are up against the wall without any gaps.
Install smoke and carbon monoxide detectors outside of all sleeping areas, and be sure batteries are working.
Basement/utility room
Store tools properly and out of reach of children.
Tag gas and water lines so that they can be turned off in an emergency.
Garage/driveway
Lock away power tools and hazardous chemicals.
Store flammable materials in appropriate safety containers.
Outside the house
Securely anchor children's play equipment to the ground.
Trim trees and shrubs around the home, remove leaves from gutters.
For more items to add to your home safety checklist, click here.
About Amica Insurance
Amica Mutual Insurance Co., the nation's oldest mutual insurer of automobiles, was founded in 1907. The company, based in Lincoln, Rhode Island, is a national writer of auto, home, marine and umbrella insurance. Life coverage is available through Amica Life Insurance Company, a wholly owned subsidiary. Amica employs more than 3,300 people in 43 offices across the country. For more information, visit Amica.com.
CONTACT: Vince Burks, Corporate Communications, 50 Amica Way, Lincoln, RI 02865-1155, 800-652-6422, ext. 24563
Twitter: Amica
Facebook: Amica Mutual Insurance Co.