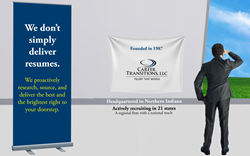 Mishawaka, IN (PRWEB) August 28, 2014
Human Resource teams utilizing Electronic Commerce, Inc.'s fully unified Human Capital Management (HCM) software can further enhance their talent acquisition strategy and stay ahead of the competition for top talent through the company's wholly-owned subsidiary, Career Transitions, LLC, a professional recruiting firm.
Career Transitions can free up HR to focus on other core objectives, by handling talent acquisition, professional contract staffing, and outplacement for them. Using the latest technology, Career Transitions recruiters proactively research, source and find the exact employee match.
The company has become an extension of hundreds of HR teams nationwide, delivering the best and the brightest right to an organization's doorstep.
"Our professional recruiting firm's expertise helps to greatly streamline the recruitment process," says Jeff Lacy, President and CEO.
HR teams can tap Career Transitions' extensive network of top talent in the engineering, IT, software, manufacturing, operations, insurance, administration, quality, sales, accounting and human resources fields.
"Our results at Career Transitions have been validated by well-established client relationships and a progressive portfolio ranging from start-ups to NYSE listed multi-national companies," says Lacy. "Covering all aspects of the recruiting process, our creative recruiting team builds relationships at each step of the recruitment life cycle."
For more information on the depth and breadth of Career Transition's approach, watch the company's Prezi at http://www.careertransitionsllc.com/recruitment/career-transitions-prezi/.
About Career Transitions
Founded in 1987, Career Transitions, a subsidiary of Electronic Commerce, Inc., (ECI), is committed to helping organizations hire, retain, and transition employees, allowing companies to focus on core business objectives. Career Transitions services provide advanced strategies that evaluate each company's unique culture, passion, and skill requirements. Whether you are experiencing explosive growth or constricted market conditions, Career Transitions' suite of services are designed to meet your customized needs. Through Talent Acquisition, Professional Contract Staffing, and CareerSmart Outplacement, Career Transitions has the experience to become an extension of your human resources team. Learn more at http://www.careertransitionsllc.com.
About ECI
ECI is a Software as a Service (Saas) provider of fully unified, Human Capital Management (HCM) applications in the Cloud. ECI is dedicated to equipping complex enterprises and midsize organizations with the Human Resource Information System (HRIS) technology they need to leverage the HR function as a key business driver. ECI® Empower solutions include Payroll Processing and HRIS, Reporting and Business Intelligence, Self Service, Benefits Management and Enrollment, Recruitment, Onboarding, Performance Management, Learning Management, and Time and Labor Management. Founded in 1996, ECI services clients ranging from 100-10,000 employees in virtually every industry, both publicly and privately held. ECI has earned several awards, but is most proud of its high retention rate. Learn more at http://www.ecipay.com or call 800-320-9530.
For additional information, please contact:
Leanne Phillips
Director of Marketing
Electronic Commerce, Inc.
2810 Dexter Drive
Elkhart, IN 46514
574-970-4400 x 154
lphillips(at)ecipay(dot)com