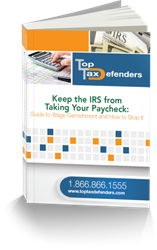 Our goal is to make sure that taxpayers understand wage garnishment laws so that they don't end up losing most of their paychecks to the IRS
Houston, Texas (PRWEB) September 04, 2014
The experts at Top Tax Defenders have found yet another way for consumers to keep more of their money, and the Houston-based tax specialists are sharing this information with the public. Their new e-book is titled "Keep the IRS from Taking Your Paycheck: Guide to Wage Garnishment and How to Stop It" and it outlines the details of wage garnishment imposed by the IRS.
"Many people don't understand tax laws, and they don't know the serious implications of an IRS wage garnishment," explained Jayson Mullin, CEO of Top Tax Defenders. "We have created this simple guide to help consumers become aware of their options."
"Keep the IRS from Taking Your Paycheck" simplifies the complex topic of wage garnishment, which is one of the ways that the IRS can recoup unpaid taxes. The publication has been designed to enlighten consumers and help them understand that there are serious consequences to not paying taxes.
"We have taken a difficult topic and made it easy to understand," stated Mullin. "We even offer tips about how individuals can prevent or stop wage garnishment. Our goal is to make sure that taxpayers understand wage garnishment laws so that they don't end up losing most of their paychecks to the IRS."
The guide, available on their website, also addresses some other wage garnishment topics, including:

Taxpayers' rights
The process used to garnish wages
How much money the IRS can take from a paycheck
About Top Tax Defenders
Top Tax Defenders has been resolving tax problems for business owners and individuals for over 27 years. To find out more about the Houston-based tax resolution firm, please call 866-866-1555 or by visiting their website.