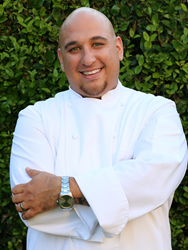 I'm an artist at heart, and I want that to show. I want to create a comfortable and extremely satisfying atmosphere for our clients.
ONTARIO, Calif. (PRWEB) August 29, 2014
Bryan Lareau, the new executive chef at the Ontario Convention Center, is as comfortable on stage at some of Southern California's most popular clubs as he is in the kitchen, where he prepares rich dishes drawing from his diverse heritage and his love of fine food.
Lareau joined the Ontario Convention Center as executive chef this month, coming from an award-winning background in the kitchens of some of the region's finest restaurants and hotels.
Raised in Rancho Cucamonga, he grew up in a household where both parents brought their own distinct cultures and tastes: His father's family was French; his mother came to the U.S. from Nayarit, Mexico.
"Cooking was always something I loved," Lareau said. "At 4 years old, I had a toy kitchen I would play in for hours. By 6 years old I could cook breakfast – over-easy eggs, bacon, sausage, biscuits and gravy – so needless to say my mom and dad would come home to find breakfast for dinner…. again."
Breakfast was his favorite as a child, but he now favors steakhouse cuisine: rich sauces, beautiful beef, braised short ribs Bourgogne, a nice Lyonnais potato or potato gratin with fresh leeks. His Cajun cuisine is award-winning.
Michael Krouse, President and CEO of the Ontario Convention Center, said Lareau is the perfect fit for the center's evolving status for specialty cuisine.
"Bryan is always pushing the envelope," Krouse said. "We love his innovative spirit and look forward to seeing how his passion in the kitchen translates to superior quality and taste for our clients."
The Ontario Convention Center is known for designing exceptional dining packages and menus to suit the needs of any occasion. Its on- and off-site catering options feature an eclectic range of international and regional items prepared with the freshest ingredients, premium meats and seafood, and produce from local farms and growers whenever possible.
Lareau said he hopes to bring a positive, contemporary feel to the Convention Center, with new ideas – hip, current and cutting-edge – while still upholding the classics with his own twist on presentations and great flavor profiles. Eventually, he said, he'd like to bring molecular gastronomy to the table… dishes like chocolate mousse that's been frozen with liquid nitrogen.
"I'm an artist at heart, and I want that to show," he said. "I want to create a comfortable and extremely satisfying atmosphere for our clients."
Most recently, Lareau was executive chef at the Marriott hotel in Riverside. He also worked as executive sous chef at the Lake Arrowhead Resorts & Spa, the Doubletree by Hilton in Ontario, and at other locations in the Inland Empire.
Prior to his career as a chef, Lareau performed in an industrial rock band called The Anix – a futuristic-looking mix between Depeche Mode and 30 Seconds to Mars, he said. The band performed at legendary clubs like the Whisky a Go Go, The Roxy, The Viper Room, the Keyclub, House of Blues, and more. They recorded several albums (with One Iron Records, a division of University Music Group), before he left the industry in 2005.
"We shared the stage with bands like Deadsy, 30 Seconds to Mars, and My Chemical Romance," he said.
Today, Lareau is a family man, living in Canyon Crest, Riverside, with his wife of 8 years, Kristin, and their daughters, Madison, 7, and Khloe, 3.
"I still love to play guitar," he said, but he spends most of his free time on outings with the family: Disneyland, and trips to Laguna Beach. "I love living in the I.E. because it's central to everything," he said. "The mountains, the beach, the desert and most theme parks are all under an hour away."
About the Ontario Convention Center
The Ontario Convention Center is contemporary in design and equipped with the latest in technology. The Convention Center boasts over 225,000 total square feet of exhibit, meeting and function space. An ideal venue for conventions, tradeshows, exhibits and meetings, the Convention Center provides a full range of technology services, including Wi-Fi, Internet, DS3 and video-conferencing capabilities. For more information about the Ontario Convention Center, operated by Philadelphia-based SMG, visit http://www.ontariocc.org or call (909) 937-3000.