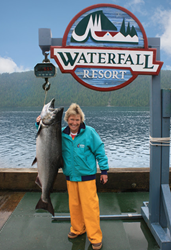 Ketchikan, Alaska (PRWEB) August 29, 2014
Gretchen Porter of Newport Beach, CA became the "Queen of Kings" in Waterfall Resort's 26th annual $100K "King of Kings" Salmon Tournament by reeling in the largest catch of the 2014 season: a 65.5 lb king salmon (Chinook) that weighed more than half her body weight. Porter is no stranger to victory at Waterfall Resort, in 2004 she captured the resort's record for the biggest king salmon ever caught: a whopping 79.2 lbs, just 10 inches shorter than Porter. An exclusive competition for guests of Waterfall Resort, both novice and avid anglers alike vied for the top spot and bragging rights during the 2014 season, from June 13 through August 18, 2014.
Following daily fishing excursions, resort guests weighed-in their wild Alaskan king salmon to see who won "King of the Day." Tournament prizes included cash payouts, free trips back to the Resort, Cabela's Outdoor merchandise, International Princess Cruises, a Ford Truck and more. During the 2014 season, Southeast Alaska experienced some of the best fishing in years due to improved king salmon fishing limits as set by the Alaska Department of Fish and Game allowing some guests to take home double their peak season Chinook catch over last year.
Established in 1912, Waterfall Resort was once a fish cannery that broke records for the sheer volume of seafood it caught and exported all over the world. In 1983, The Waterfall Group transformed the property into one of the finest remote sport-fishing destinations in the world. Just a 90-minute flight from Seattle, its unparalleled location on Prince of Wales Island adjacent Alaska's Inside Passage combined with its all-inclusive four-star guest service, expert guides, historic accommodations, and distinct culinary offerings make for an unforgettable experience year after year.
Waterfall Resort guests participated in the 2014 $100,000 "King of Kings" Salmon Tournament as part of their stay for an additional entry fee of $75, which was valid for the full summer season.
To book a stay call 800-544-5125 or visit http://www.WaterfallResort.com.
About The Waterfall Group
Waterfall Resort is managed by The Waterfall Group, leaders in adventure hospitality management. Founded in 1982, The Waterfall Group destinations are known for their unique accommodations, friendly customer service, expert marine crew and close proximity to the best sport fishing in Alaska. Welcoming more than 50,000 guests at its resorts, The Waterfall Group boasts an impressive guest return rate that includes multiple generations. The Waterfall Group also manages Waterfall Resort's exclusive luxury sister property Steamboat Bay Fishing Club, the closest lodge to the best fishing in Southeast Alaska.