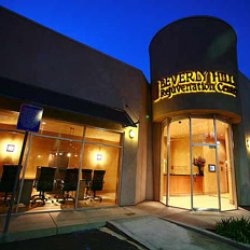 "Ultherapy represents a whole new category within aesthetic medicine,"- Dr Yazdani
Los Angeles, CA (PRWEB) September 04, 2014
Dr. Nasimeh Yazdani announced today that Ultherapy-- the only non-invasive procedure FDA-approved to lift skin on the neck, on the brow and under the chin -- is now available at Beverly Hills Rejuvenation Center.
Ultherapy is a non-surgical procedure for the face and neck that stimulates the body's own natural healing process to lift the skin over time. The use of FDA-cleared ultrasound technology enables physicians, for the first time, to see and then treat the deepest support layers of the skin – typically addressed in cosmetic surgery – without cutting or disrupting the surface of the skin.
"Ultherapy represents a whole new category within aesthetic medicine," says Dr. Yazdani. "It is an ideal cosmetic procedure for those looking for natural yet noticeable results."
The treatment typically takes around 90-minutes. Afterward, patients are able to return to normal activities right away, and there are no special measures they need to take.
With just one Ultherapy treatment, the lifting process is initiated, but the effect will build gradually over the course of two to three months, as new, stronger collagen and elastin are created. Further improvements can even appear up to six months following a procedure as this collagen-building process continues.
While the results do not duplicate those of surgery, Ultherapy's gradual improvements make it a compelling option for people who have mild to moderate skin laxity as well as those who want to "stay ahead of the game" and those looking to prolong the effects of cosmetic surgery.
More than 100,000 Ultherapy treatments have been performed worldwide, and Dr. Yazdani is pleased to be at the forefront in the U.S. of this clinical advance.
About Beverly Hills Rejuvenation Center
Founded in 2005 by the "wellness experts to the stars" Dan Holtz and Devin Haman, Beverly Hills Rejuvenation Center has a well-earned reputation as one of the most comprehensive anti-aging and wellness centers in Los Angeles. Offer an variety of age-defying medical aesthetic treatments - from the latest treatments utilizing breakthrough technology to a full menu of bio-identical hormone therapy protocols- Beverly Hills rejuvenation Center leads the way in offering the latest breakthroughs in the science and technology behind full rejuvenation. For more information About Beverly Hills Rejuvenation Center call 310-473-5800 or visit online.