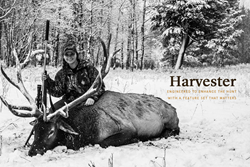 West Valley, Utah (PRWEB) August 29, 2014
Silencerco has released a video showcasing the capability of its Harvester Big Bore silencer. The Harvester Big Bore is designed specifically for large calibers up to the .338 Lapua Magnum. It excels in enhancing the hunting and long-range precision shooting experience.
Due to its lightweight design, the Harvester Big Bore hunting rifle suppressor is barely noticed on the end of a rifle barrel and has the least point of aim point of impact shift of its class making it particularly suitable for applications which demand precision. In addition, the Harvester Big Bore's integral Anchor Brake offers best in class felt recoil reduction across a range of calibers. Using either a modular direct thread adapter or an optional quick detach ASR mount, the Harvester Big Bore can be used on a wide range of threaded barrels and rifles equipped with Specwar ASR .30 or .338 muzzle devices.
The modular direct thread adapters make the Harvester Big Bore an excellent choice for a variety of shooting disciplines. Using a patented fully-welded, hardened tool-grade stainless steel baffle design, the Harvester Big Bore is among the lightest centerfire rifle silencers available.
What you hear in the new product video is what you get – there has been zero sound manipulation. The Big Bore is a feat of engineering that Silencerco stands behind 100%, offering a lifetime warranty.