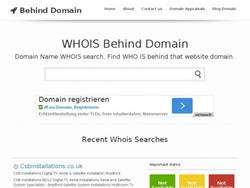 We are excited to add the WHOIS domain tool BehindDomain.com to our online holdings
Los Angeles, California (PRWEB) September 05, 2014
WebFox LLC, an interactive online media organization, today announced the addition of BehindDomain.com to their website portfolio. The main functionality of BehindDomain is providing unparalleled information behind website domains across the globe.
One of the biggest tools on BehindDomain.com relies on WHOIS, the query and response protocol that provides the registration information of domain holders, which increases the effectiveness of online brand protection and strategic investigations. BehindDomain is the first web-based domain tool built by WebFox, further expanding the Webfox website portfolio.
Conditional and flexible search options provided by BehindDomain.com will deliver users the most relevant findings, including cglobal domain name registrations such as gTLD and ccTLD coverage, both current and historical. This offering allows users to review, filter and sort the data, as well as to access summarized views to quickly identify email addresses or owner names used to register each of the matching domains.
"We are excited to add the WHOIS domain tool BehindDomain.com to our online holdings," said Paul Richter, senior development adviser at Webfox. "Not only have we stripped down much of the weight that slows competing properties down, but we've incorporated into BehindDomain.com additional insight into the registration of domains, helping prioritize the most important and imperative information first."
While WHOIS is used by current and prospective domain holders, it's also an important tool for law enforcement officers worldwide that are investigating internet violations, such as pirating, spammers and phishing domains. The fraudulent Online Identity Sanctions Act, while not making submission of false WHOIS data illegal itself, does "... make it a violation of trademark and copyright law if a person knowingly provided, or caused to be provided, materially false contact information in making, maintaining, or renewing the registration of a domain name used in connection with the violation." The latter "violation" reference directs to a prior violation of trademark or copyright law.
About Webfox
An interactive online media organization, Webfox operates over 30 diversified web properties that provide engaging content and useful advertisers for visitors around the world. Visited over 50 million times monthly, Webfox sites offer an array of content in 14 languages across 23 countries, from search assistance to job placement. With this large array of properties, Webfox provides advertisers ac