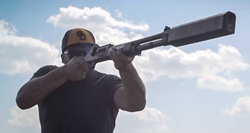 West Valley, Utah (PRWEB) August 31, 2014
Suppressor manufacturer Silencerco has released a new video showcasing their beliefs and history.
Accompanying the video was this description: "At SilencerCo, challenging assumptions is what we do. It's every bit as engrained in our process as turning on the lights in the morning and turning them off at night. It's the reason we sell more silencers than anyone else. But that's hard to explain to someone that's new to our brand, so we made this video as a way of showing you what we mean. SilencerCo represents a way for all of us to achieve something as near to perfect as possible. Watch the video and see why we are A Superior Silence Company."
SilencerCo was formed in 2008 with the intent to create the best silencers by thinking outside the box and by solving problems in unconventional ways. The founders thought the only way to make a foothold in this competitive industry was to bring new products to the market only if they were a significant improvement over what was already available in competitors' products. Silencerco has a mission to continually focus on improvement, innovation, creativity and problem solving. Silencerco decided it was time to introduce new, forward thinking ideas to the market and forever change the landscape of the suppressor industry. Silencerco is dedicated to creating products that will improve sound reduction levels, improve durability and longevity, improve form and function, and improve ease of use and maintenance, and to do it in ways never thought of or achieved. Over the last few years Silencerco has had incredible growth and impressive market penetration with only a few products. As we develop our full product line, the same forward thinking and innovative practices seen in our current product line will continue into our future products.