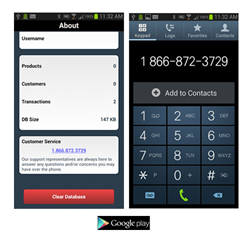 Glendale, Calif. (PRWEB) September 03, 2014
The leading secure payment gateway, USAePay, recently released update version 1.3.6 of the USAePay point of Sale Credit Card Payment System application for Android devices. The payment gateway is dedicated to providing a secure and efficient experience to merchants in industries including but not limited to retail, hospitality, restaurant and transportation.
USAePay performs quality assurance tests and implements upgrades for this mobile payment app with the end user merchant experience in mind. Version 1.3.6 of the application features updates that both improve overall experience and efficiency for merchants utilizing the USAePay solution.
New features include:
•Auto-population of customer e-mail addresses to send receipts electronically.
•Auto-save of new customer emails to existing customer accounts.
•Ability to add/remove product categories directly on device.
•Addition of an "Unfiled Category" where products in deleted categories remain saved in the system.
•Improved hardware support.
Created for merchants in all industries seeking a secure point of sale solution, version 1.3.6 of the mobile payment application for Android continues to provide a quick and easy interface for accepting credit card payments. The application includes a mobile point of sale cash register that supports inventory syncing, cash payments, tax calculation, and order history.
Learn more about the version 1.3.6 of the USAePay mobile payment application for Android and download it for free on Google Play today.
About USAePay:
USAePay is a family-owned business based in Los Angeles, CA. For over 15 years, the company has been assisting merchants with payment solutions to fit their needs. USAePay's payment gateway supports most of the major platforms in the credit card industry and works with some of the leading check platforms. USAePay is pleased to work with most of the larger merchant service banks in the US and Canada. For more information, please visit http://www.usaepay.com or call 866.USA.EPAY (872-3729).