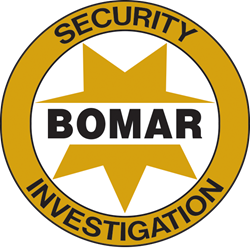 It gives our clients such a wealth of information, right at their fingertips, for just pennies a day.
Santa Barbara, CA (PRWEB) August 30, 2014
Recent updates to their already-popular real time reporting property management software tool - Bomar Trac - has enabled the professionals at Bomar Security & Investigation to offer an even more effective means of fulfilling the security needs of business owners along the California Central Coast.
"Every client that has come on board with our Bomar Trac just loves it," said Bomar Security & Investigation President and Manager Mitzi Navarro. "It gives our clients such a wealth of information, right at their fingertips, for just pennies a day."
Designed to prevent property loss and damage from hurting the client's bottom line, Bomar Trac has been a hit since its introduction early in 2014. With the creation of Verification Surveillance, Bomar Security & Investigation has been offering the real-time analytics to its clients in order to take traditional video surveillance to a more proactive level.
Bomar Trac offers clients a variety of benefits, including:

Creating ability to view reported issues in real time
Allowing property owners and managers to better manage their parking areas
Enabling clients to have a real time conversation with security personnel
Bomar Trac has created more efficiency for patrol officers as well, including:

Streamlining the daily routines of security
Tracking interactions with date and time stamps for accountability
Documenting maintenance issues officers may encounter during patrol
With 24-hour services, Bomar Security & Investigation has been in the business of safeguarding the Central Coast for 32+ years. Specializing in providing well-trained security officers for their clients, Navarro and her fellow managers ensure quality, efficient, and professional service for their long-term contract clients as well as short-term contracts for construction companies, movie production, commercial location shoots, and more.
With innovative tools such as Bomar Trac and experienced, knowledgeable, and personable staff, it's no wonder property owners throughout San Luis Obispo and Santa Barbara counties look to Bomar Security & Investigation for all of their security needs. Providing service that is professional, quality, diverse, safety-minded, and responsive – these are the key components to the company's success. The diversity in services offered include: guards, patrols, video surveillance monitoring, Bomar Trac, background checks, parking management, and more.
"We are a 24/7 company," said Navarro, "and no matter what time of day or night, our clients have the ability to speak with a supervisor, not just a recording. We are a local company, doing business with local vendors."
Actively involved with the local community, Bomar Security & Investigation lends assistance and support to a variety of organizations including the Santa Maria Valley Boys & Girls Club, the Paso Robles Youth Sports Council, and the Santa Maria Valley Humane Society. As a member of both the Santa Maria and San Luis Obispo chambers of commerce, Navarro and her team value the importance of friendly business relations. In addition, first consideration is given to military veterans applying for job openings.
Bomar Security & Investigation, the industry expert in parking management and residential and commercial security, offers a free property analysis. For more information, visit http://www.bomarsi.com or call (805) 928-5222 (Santa Maria), (805) 683-4898 (Santa Barbara) or (805) 544-0185 (San Luis Obispo).