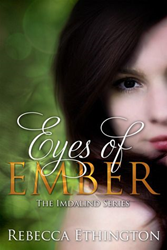 Fans of Rebecca Ethington's Kiss of Fire will love Book 2 in the Imdalind Series Eyes of Ember.
Salt Lake City, Utah (PRWEB) August 29, 2014
Bernard Books announced today that fans of popular YA author Rebecca Ethington can pick up Eyes of Ember, Book 2 in the Imdalind Series for $1.99 for a limited time. Kiss of Fire, the first book in Rebecca Ethington's Imdalind Series was a gift for her 92 year old grandfather but when fans wanted more she wrote Eyes of Ember. Ethington has sold over 600,000 copies of her Imdalind Series. The Imdalind Series is a clean, young adult paranormal romance that appeals to adults as well.
About Eyes of Ember, Book 2 in the Imdalind Series
Joclyn is in hiding, hunted by the man she still desperately loves. Ryland is gone, his mind erased; no memory of Joclyn remains, but Joclyn's heart desperately begs her to hold out hope. Meanwhile the black-eyed monster that possesses him attempts to kill her over and over again.
If it wasn't for Ilyan, Joclyn would be dead by now.
Ilyan, the man who once stalked her, is now Joclyn's protector, the only person she has left. He protects Joclyn from the men who seek to end her life, and all the while, she is haunted by dreams where Ryland begs her to break the bond between them. Ilyan is there. Always there.
Ilyan trains and prepares her, teaching her everything she needs to know in the hope that one day she can avenge Ryland, if not protect herself from him. And then, there is her father.
The man who has never been there is suddenly responsible for everything. And who he is has made Joclyn into something she never wanted to be.
Praise for Eyes of Ember
"You NEED to read this series." - Book Briefs
"So amazing! I loved Eyes of Ember so much! Brilliant, just brilliant." - Imagine a World
About Rebecca Ethington
Rebecca Ethington is the international bestselling author of the Imdalind Series. With over 600,000 copies sold worldwide. Rebecca has always been in love with stories, with books, and with worlds that only live inside her mind. She was raised between the dusty bookcases of her grandparents bookstore and the dim electric glow of a bustling theater. It was an upbringing that harbored her love of performing and storytelling, creating an imagination that brings us such spellbinding works today. Kiss of Fire was that novel that sky rocketed into the best selling lists worldwide, winning Rebecca multiple awards and being hailed as a "Genius Storyteller" by USA Today.
About Bernard Books
Bernard Books is a cooperative marketing company that aims to give all authors the marketing and exposure that their books deserve. Bernard Books brings authors together in a place where they can jointly promote and market their books. To contact a Bernard Books author or view their work please visit the Bernard Books website at http://www.bernardbooks.com.