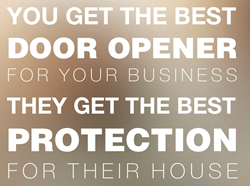 'The goal of this program and the kits is to work hand in hand with the real estate community to provide tools that attract clients and close more home sales.' - Harry Bailey, President of 365 Home Warranty
Edison, NJ (PRWEB) August 29, 2014
365 Home Warranty is dedicated to providing the highest level of customer service and helping every customer achieve a level of protection and security at home that guarantees peace of mind. In order to make it efficient and easy for real estate agents and title companies to give buyers and sellers all the information necessary to choose an appropriate home warranty plan, 365 Home Warranty will be launching real estate kits this fall.
Each kit will come in an individual box, with everything required to make purchasing a home warranty simple and fast. Agents can expect to receive kits that include marketing materials, ordering information, and even a complimentary gift when they request an invitation to the 365 Home Warranty real estate program. No purchase is required.
According to company president, Harry Bailey, "The goal of this program and the kits is to work hand in hand with the real estate community to provide the very best tools for attracting clients and closing more home sales." "Real estate agents and title companies are already referring to us regularly and this new initiative is geared towards helping them do better business," Bailey continues. "We also want every buyer and seller to have the home protection they need to maintain peace of mind."
In 2014 there have been some very promising real estate market reports and the market seems to be stronger than it has been over the last three to five years. In a Real Estate News article on realtor.com® titled "Healthiest End to Spring Home Buying Season in Three Years" published on on August 20, 2014 writer Rachel Stults reports that, "for the first time in three years, the peak home buying season is bucking its usual slowdown, showing nationwide price and inventory increases, according to the realtor.com® July National Housing Trend Report." Jonathan Smoke, chief economist for realtor.com®, is quoted as saying, "This is the first time, since the beginning of the recovery, that we expect to see positive momentum throughout the second half of the year." According to a recent National Association of Realtors® press release posted on August 21, 2014 "existing-home sales increased in July to their highest annual pace of the year, and the ongoing decline in distressed sales reached an important milestone." 365 Home Warranty real estate kits will be available to agents and title companies located anywhere in the United States to help them achieve even higher levels of success while the market continues to grow.
To learn more about real estate kits or to request an invitation contact the 365 team and become a 365 Home Warranty real estate partner.