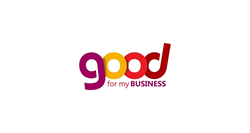 The idea was to expedite networking and deal-making to help small businesses grow.
Silver Spring, MD (PRWEB) September 10, 2014
September 1, 2014. Yihung Mohs, President and CEO of Good For My Business, recently launched a Business-to-Business site, http://www.GoodForMyBusiness.com. The site is designed to be a networking site for businesses, giving them the opportunity to buy and sell products and services that are backed by trustworthy reviews and connections.
Good For My Business showcases the professional expertise of its vendors, provides testimonials from customers and offers limited special discounts. It utilizes the power of cross-promotion and referral to grow in the small business community.
According to Yihung Mohs, "My vision is to combine the power of Linked In, Angie's List, Facebook and Living Social. My objective is to create a resource that enables small business to grow effectively."
Good For My Business resulted from Yihung Mohs' own experience as an entrepreneur. "Ten years ago I jumped into the small business world with a big dream and a MBA, but no experience. After a decade of successfully developing Silver Spring Dream Dinners (a meal prep store) and Moms Inc. Silver Spring (a business woman's networking group) I had an idea that blossomed into Good For My Business."
The idea, according to Ms. Mohs, was to expedite the speed of networking and deal-making to help small businesses grow.
Small businesses generally grow by nurturing referrals. The nurturing process takes time – and time is a factor that is often an impediment to small business owners. As is often the case, business owners rarely have enough time to address all of the responsibilities they have. The owner takes on multiple responsibilities in order to keep overhead down. Said Mohs, "Ask any business owner how much time he/she spends on networking and following up on leads and the answer you'll most likely get is 'not enough.' If there is no time to network, the result is fewer referrals. And fewer referrals means less revenue. Adding it all up, no wonder small business survival rate is so low."
Good For My Business actively pursues top-notch, award-winning, and highly-recommended service providers. The company works to convince these professionals to offer a handful of special deals on the site. For the professionals offering services, the result is exposure and free advertising. The site positions its professionals as leaders in their industry, demonstrating their expertise through Q&A dialogue. To further protect the vendors, the company limits the quantity of services that are offered by each vendor. In the end, the business buyers can take advantage of high-quality services to boost their growth and the vendors get great exposure and new clients.
Good For My Business (http://www.goodformybusiness.com) is a privately owned company that was founded in 2014 by Yihung Mohs. The website provides a continuous stream of referrals to participating vendors, while offering high quality services to small business owners. Vendors must be a member of, or referred by a member of a verifiable networking group to apply. Revenue to vendors is generated upon the sale of the service offered. Good For My Business reserves the right to decline any listing.