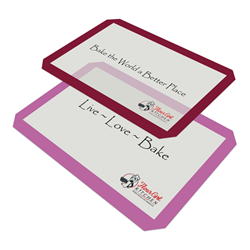 Along with providing high quality products we hope that our messages inspire people to create those exceptional masterpieces.
Meridian, ID (PRWEB) August 30, 2014
In the kitchen tools market today, there are dozens if not hundreds of different silicone baking mats that are being offered. For those not aware of what these mats are or what they can do, essentially they are a non-stick liner that is placed on a cookie sheet, which prevents even the most challenging foods from sticking.
Most of these nonstick mats are basically made from similar materials, and address the same problems, however only one company offers fun and inspirational messages on their mats.
Flour Girl Kitchen offers premium quality silicone baking mats that not only make baking and cleanup easier, but also include a clever message to inspire enhanced baking enjoyment.
"Bake the World a Better Place" and "Live, Love, Bake" are two phrases that the creators of Flour Girl Kitchen hope will send a strong message to its customers.
According to Dean Chilcote, co-owner of Flour Girl Kitchen, the message is:
"We believe baking is an art, and that art can touch the heart and improve the world. We also believe that to create a masterpiece, an artist needs the best quality tools. Along with providing high quality products, we hope that these messages inspire people to create exceptional masterpieces."
Made with 100% food grade silicone and FDA approved materials, Flour Girl Kitchen baking mats are safe for use in the oven, microwave, freezer and dishwasher.
The non-stick surface makes them perfect for any type of baking-- roasting or freezing-- and the unique fine weave mesh pattern distributes heat evenly to ensure consistent cooking of food without hot spots.
No cooking sprays, oils, or butter are needed to keep the food from sticking, so these baking mats can be perfect for those looking to eat healthier.
Flour Girl Kitchen silicone mats can be used over and over again, thousands of times, which helps promote an eco-friendly approach that eliminates the need to use costly parchment paper that ends up in the trash afterward.
You can find these 'one-of-a-kind' mats for sale on Amazon.com.
http://www.amazon.com/Non-stick-Silicone-Flour-Girl-Kitchen/dp/B00KAKBSMY/
For more information about Flour Girl Kitchen and their premium quality baking products, visit their web site at: http://www.FlourGirlKitchen.com