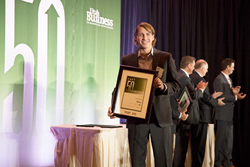 We are successful year-over-year because we focus on relationships
Salt Lake City, UT (PRWEB) August 29, 2014
Yesterday, CLEARLINK was recognized as the 4th fastest-growing company within Utah Business' Fast 50 awards program. CLEARLINK is one of an elite few consecutively earning top ranks since the start of the award program in 2008. Revenue growth, innovative business approaches and entrepreneurial spirit make up the qualities of those in high-ranking positions.
CLEARLINK's growth in 2013 is attributed to expansion of current relationships in the home services space, growing two new teams focused on business development and account management and continued acquisition and retention of top marketing and sales talent.
"We are successful year-over-year because we focus on relationships; with our partners, with our people and within our communities," said Ben Henderson, President of CLEARLINK. "Our success in 2013 catapulted us into 2014, where we're focusing on building new relationships in new vertical sectors and ensuring our employees have opportunities to grow alongside us."
In 2014, CLEARLINK has been named one of the top places to work in IT by ComputerWorld magazine. CLEARLINK's 360 Fit Wellness program has been awarded the Healthy Worksite Gold Award and the Corporate Wellness by Gold's Gym Diamond Award for multiple years.
In 2013 CLEARLINK was named one of America's top 100 companies to work for according to Outside magazine, and CEO Phil Hansen was recognized as the Ernst & Young Entrepreneur of the Year® in the Services category of the Utah Region.
About CLEARLINK
CLEARLINK partners with the world's leading brands to increase their reach, drive and fulfill valuable transactions, and deepen insight into consumer behavior. CLEARLINK has delivered millions of customers to its brand partners over the past ten years through its customized marketing, sales and analytics platform. CLEARLINK, headquartered in Salt Lake City, Utah and established in 2003, employs over 1,200 local sales, technology and marketing professionals. For an opportunity to join the growing CLEARLINK family, visit http://www.clearlink.com/jobs.