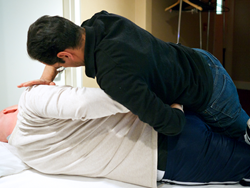 Astoria, New York (PRWEB) August 30, 2014
August 28th, 2014: With the prevalence of head, back and shoulder pain in our society and the toll that takes on the individual as well as lost production costs, it's vital that continuing education for physical therapists addresses this problem.
In accordance with its goal to help physical therapists help others, Hands-On Seminars is offering discounts on their continuing education through September 2nd.
Three learning styles are available to fit the individual needs of each practitioner.
Live Courses
Designed as an immersive learning experience. Dedicated to those health care professionals who want to learn a total Manual Therapy approach.
Online Courses
Earn CEUs at your own pace with our unique interactive Online remote study courses developed for flexibility. Complete with highly interactive course material.
Hybrid Courses
The Hybrid curriculum has been created with you in mind. A customized program balancing learning needs with the clinical practical experience necessary in Manual Therapy.
These courses are appropriate for PTs, PTAs, OTs, OTAs, LMTs, ATCs and Physicians.
Hands-On Seminars, Inc. (HOS) is the leading international continuing education organization in the world, awarded the Lecture & Seminars Award as the best Lecture and Seminar Company from the Lectures and Seminars Bureau over the past two years. Their purpose is to provide the best quality Manual Therapy seminars at an affordable cost. For further information, please contact: Alexandra Rosner at 888-767-5003 or info(at)handsonseminars(dot)com
###