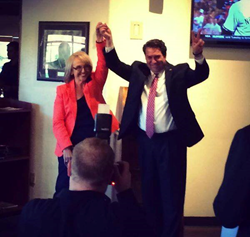 Phoenix, Arizona (PRWEB) August 28, 2014
When David Gergen, President of Pro Player Health Alliance and long-time friend of Mark Brnovich, was asked to publicly support Mr. Brnovich in his run for the Republican nomination for the Attorney General seat in the State of Arizona, Mr. Gergen could not refuse. He quickly gathered the support of Cardinal Hall of Fame wide receiver Roy Green in addition to former Arizona Cardinals Derek Kennard and Mark Walczak. Green, Kennard and Walczak are members of Pro Player Health Alliance (PPHA), an organization formed to raise awareness for sleep apnea among both former and current NFL players and the general public alike. Gergen asked his fellow PPHA members to help spread the news not only of Mark Brnovich's proven track record of being tough on crime but as being a man of integrity. When speaking of Mark Brnovich, David Gergen states, "Mark's commitment and dedication to serving citizens of Arizona are second to none. I can't think of anybody more deserving to take over as Attorney General."
Mr. Gergen also attended several campaign functions to show his support of Mark Brnovich, including the Brewer/Brnovich endorsement dinner held at the Adobe Restaurant at the Arizona Biltmore.
So far, Gergen's efforts have proved to be beneficial to the Brnovich campaign. On Tuesday August 26, 2014, Mark Brnovich won the Republican nomination for Attorney General receiving 54% of the votes against incumbent Tom Horne, who received 46% of votes. Upon hearing the news of Brnovich's nomination, Gergen states, "I am confident that the Arizona people got it right. With primary elections behind us, it is now even more important to rally the troops and ensure Brnovich defeats Democrat nominee Felecia Rotellini."
In an effort to keep the momentum in Brnovich's favor David Gergen has reached out to long time friend Larry Debus, former police detective and one of the most prominent criminal defense attorneys in America, to host a party in support of Mr. Brnovich's campaign. Mr. Debus graciously accepted the offer and it is being held at Debus' restaurant Sierra Bonita in Phoenix, Arizona in the month of October. The event promises to be a powerful stop on Brnovich's campaign trail. "In addition to the members of Pro Player Health Alliance, we are expecting several former Arizona Cardinals and a strong media presence," explains Gergen, "we want to make sure Mark's message reaches the masses and the citizens of Arizona are confident that Mark is the right man for the job."
If you would like to show your support or find out the latest news on Mr. Brnovich's campaign for Attorney General, please visit http://www.Mark4AZ.com.
About Pro Player Health Alliance
The Pro-Players Health Alliance (PPHA) is an organization dedicated to helping former NFL players, through providing testing and treatment options for those who suffer from sleep apnea. In addition, the PPHA is dedicated to integrating education and raising sleep apnea awareness, in a fun and memorable way. In addition to the campaign, the PPHA is dedicated to testing and getting people treated who suffer from sleep apnea. This has been stepped up by working though The Living Heart Foundation and its HOPE program sponsored by the NFLPA. The PPHA was created David Gergen, President of Gergen's Orthodontic Laboratories and Former NFL legends.
About David Gergen
David Gergen, CDT, rolled out of bed on December 4, 1982 and had his career "ah ha" moment. He knew he was going to be an orthodontic technician and he knew he was going to help people all over the country to help treat their sleep disorders in partnership with their dentists. David Gergen opened his family-owned orthodontic lab in Phoenix, AZ in 1986 and now employees over 80 people. David Gergen has been a nationally respected dental lab technician for over 25 years. He received the award for "The Finest Orthodontic Technician in the Country" given by Columbus Dental in 1986. He also received a lifetime achievement award by the Gelb Academy as America's greatest Orthodontic technician of all time, in 2012. He has worked for some of the pioneers in the orthodontic and sleep dentistry fields. Gergen and his father John Gergen began Gergen Orthodontic labs in 1984 and have grown it into one of the most respected labs in the country. One of his proudest achievements is receiving The National Leadership award for Arizona Small Businessman of the Year in 2004. David is the Dental Director of the American Sleep and Breathing Academy and he has also taken a spot at Tufts University teaching seminars for the Continuing-Ed program on Dental Sleep Medicine.