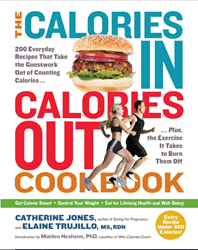 A real winner! The Calories In, Calories Out Cookbook is an excellent way to eat wonderful, real food and manage your weight. It does not contain long lists of 'do's' and 'don'ts'; instead, it helps guide you in making smart decisions...
Bethesda, MD (PRWEB) August 29, 2014
Many highly successful cookbooks are launched after a blog or website with a zillion followers has established a market for the product. One recent example would be the 100 Days of Real Food Cookbook. The Calories In, Calories Out Cookbook did things a little backwards. The companion website and blog, [The Calories In and Calories Out Blog were established while the book was still being written.
Keeping in line with the mission of the book, author and blogger,Catherine Jones, posts two stories a week. Her goal is to increase calorie awareness while giving readers practical and sustainable tools to make a healthy lifestyle a reality. She showcases her decades of expertise in the Cooking Tips and recipes. Some examples of the Cooking Tips include things like how to roast the perfect chicken, whip cream, and grow an herb garden. Shopping Tips guide you on how to choose a juicy watermelon or lemon and how to make the salad bar your best friend. Super foods give in depth information on blueberries, oranges, and yes, even dark chocolate. The Nutrition Tidbits, researched by co-author Elaine Trujillo, MS RDN, include 20 low-calorie hunger busters, high-calcium low-fat dairy products, and the amazing benefits of green tea. The new Diabetes Corner helps diabetics choose the best foods and resources. Guest bloggers are invited.
The recipes are a highlight. They feature scrumptious oat-flour waffles and hearty mixed-grain pancakes, pasta salad with sun-dried tomato pesto, gently cooked gazpacho, homemade salad dressings, salmon patties, chicken tenders, flank steak with honey glazed onion, and strawberry short cakes. Catherine's directions are clear and the outcome is always amazing.
Other books by Catherine Jones are also featured: Eating for Pregnancy: An Essential Nutrition Guide and Cookbook for Today's Mothers-to-Be and Eating for Lower Cholesterol: A Balanced Approach to Heart Health with Recipes Everyone Will Love.