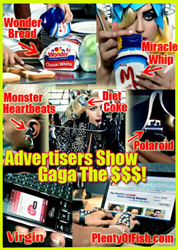 Hollywood, CA (PRWEB) August 29, 2014
The Los Angeles based motion picture and television product placement agency powerhouse, All Access Placement has announced the signing of one of their biggest clients to date, EB Inc. EB or Extreme Beverages Inc. is the parent company to over twenty five of the most successful energy drinks in the world.
AAP has guaranteed that the EB line of energy drinks will appear in film and television projects slated for 2015. Unlike other product placement agencies, AAP has a roster of clients from both sides of the playing field so to speak, from producers looking to bring in additional funding by featuring products to product lines that are looking for exposure in film and television.
AAP is a full service non traditional product placement agency with a direct focus on strategic partnerships and product placement within the motion picture and television industry. AAP represents both corporations, producers and studios in house, which allows brands to personally work with the AAP creative team to build integrated advertising campaigns far superior to any other opportunity available in today's market.
All Access Placement was founded by a team of former studio execs that teamed up with a Coca Cola vice president during the Atlanta Summer Olympics. Together the team realized the need for an agency that could bridge the gap between corporations and studios.
All Access Placement is based in Hollywood, California with offices in New York and London. Unlike their talent agency counterparts, AAP has an open door policy and welcomes unsolicited potential clients. All Access Placement can be contacted at (866) 701-9605 or visit http://allaccessplacement.com/.