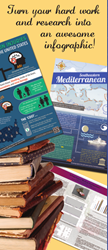 Infographic style posters increase comprehension and retention of data.
Indianapolis, Indiana (PRWEB) August 30, 2014
The team of science communicators and graphic artists at Insanitek Research and Development believe that academic work deserves better than standard three column posters found at academic conferences all over the world. The infographic style poster are visual graphics which, according to a review by The Institute for the Advancement of Research in Education at AEL, can increase comprehension and retention. After several successful trial posters that have been used to successfully teach the public about scientific concepts, Insanitek wanted to bring this specialised service to the world of academics so your work can shine.
Grace Conyers, founder and owner of Insanitek, got the idea to use infographics for outreach while teaching others about the importance of brain injuries. She thought the information could be easily digested as an infographic, and the experiment took off successfully from there to a wider variety of academic topics.
Insanitek Research and Development is a startup firm specializing in helping independent researchers and inventors gain traction and build their businesses. They are based in Indianapolis, Indiana, but serve the global community.