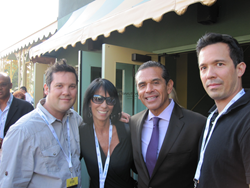 I lived in Mexico for over a year while shooting a film and I couldn't believe how kids were just packed into cars and driving around unprotected
Beverly Hills, CA (PRWEB) August 29, 2014
Dessler Media Vice President, Brian Dill, will be hosting a star studded charity lunch at this years Breeders Cup. The event that will take place at Santa Anita before the first race at the annual event.
All proceeds will be donated to Brian Dill's favorite charity, Car Seats Para Sur, an organization that collects car seats from the United States and ships them to Mexico, where child car safety is often neglected.
The event is expected to raise awareness of the safety issues that children face in third world countries. "I lived in Mexico for over a year while shooting a film and I couldn't believe how kids were just packed into cars and driving around unprotected. The parents would simply rely on Virgin Mary icons that were glued to their dashboards for protection. After witnessing a horrific accident, I knew that I had to do something to make a difference and I had seen so many disregarded car seats in my friend's garages", remarked Brian Dill.
Dessler Media founder, Willem Dessler, an avid horse owner will be hosting a VIP reception after the lunch during the races.
Dessler Media is an International Public Relations firm based in New York with offices in Los Angeles, Zurich and Cape Town. Visit http://desslermedia.com/ for more information.