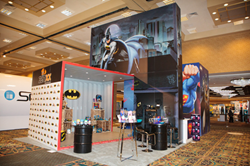 As an exhibit builder Absolute Exhibits will once again as in the past year, be fabricating everything from custom exhibit rentals to system exhibit rentals...
Tustin, CA (PRWEB) August 29, 2014
Beginning Tuesday, November 18th and running through Friday, November 21, 2014 – 27,000 visitors will descend upon Orlando for IAAPA Attractions Expo. There will be thousands of qualified amusement park and attractions buyers from more than 100 countries meeting at IAAPA Attractions Expo. They will connect with buyers from: Amusement parks, Theme parks, Attractions, Water parks, Family Entertainment Centers, Casino, Zoos, Aquariums, Resorts, Museums, Themed Entertainment, Party Rentals and much more.
As an exhibit builder Absolute Exhibits will once again, as in past years, be fabricating everything from custom exhibits rentals to system exhibit rentals for clients from the United States and around the world including the United Kingdom, Norway, Germany, Sweden, Mexico, Italy, Switzerland, and Japan.
With more than 1,000 exhibiting companies and a trade show floor spanning more than 500,000 net square feet of space IAAPA provides an indescribable amount of business opportunities and networking events. With more than 80 education sessions and 100 educational opportunities including behind-the-scenes tours and more, the educational experience offered in five days time will be incredible.
About Absolute Exhibits:
Absolute Exhibits, established in 2000, rents and sells large custom exhibits at over 300 shows in the USA and in countries around the world. Absolute Exhibits is dedicated to providing distinctive marketing settings as well as pre-and-post show and, event marketing and support services for our clients. At Absolute Exhibits every aspect of the exhibition project is handled using in-house resources and every question is answered in-house as well. Absolute Exhibits is a true one-source exhibit house.