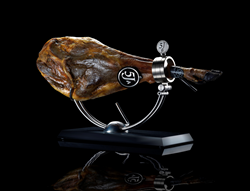 Laurel Pine stated, "We researched and tasted all the Jamón Ibérico currently available in the US, and concluded without hesitation that Cinco Jotas (5J) is the finest producer of this incredible masterpiece of culinary indulgence."
Reno, NV (PRWEB) August 29, 2014
Mirepoix USA, the leading online purveyor of gourmet foods has launched a new product line, Cinco Jotas Jamón Ibérico de Bellota, Spain's famous ham crafted from black pigs raised free-range on acorns and aromatic herbs on the Iberian Peninsula. A launch party, exclusive carving demonstration and multi-course tasting will be held on Saturday, September 20, 2014 at a private residence in Reno, NV.
Mirepoix USA founder, Laurel Pine stated, "We researched and tasted all the Ibérico ham currently available in the US, and concluded without hesitation that Cinco Jotas (5J) is the finest producer of this incredible masterpiece of culinary indulgence." Pine continued, "The history of Cinco Jotas, which began in 1879, as well the farming methods used to produce this exquisite product, is fascinating."
According to Mirepoix USA, 5J is the only producer using 100% Pure Ibérico breed pigs (Pata Negra). Other producers do not guarantee the absence of cross breeding. 5J's black pigs are naturally raised on acorns and aromatic herbs in the heart of the Iberico Peninsula in free-range conditions with nearly 5 acres of land per pig. The result is a delicately marbled ham of unparalleled quality and flavor, with a distinctive nutty sweetness sought after by connoisseurs and 5-star chefs alike.
The diet of acorns and aromatic herbs during the Montanera fattening period, combined with the exercise the pigs get while searching for food and traveling to and from the sources for drinking water ensures that they fatten at a slower rate and allows fat to accumulate even more between their muscle fibers. The unique rearing conditions also create fat with high levels of oleic acid, a monounsaturated fatty acid which has the nutritional advantages of olive oil.
The launch party, held on Saturday, September 20, from 6:30 – 9:30 pm, will feature a special carving demonstration by a 5J Master Carver with decades of experience. Participants will have an opportunity to compare the flavor profile of the front leg and back leg, and taste several courses featuring this exceptional ham, paired with premium wines.
Mirepoix USA's Jamon Iberico launch party will be held in a private residence in Reno, Nevada. For ticket purchases and information, visit http://www.mirepoixusa.com or call 866-992-9559. The ticket price is $129 per person, all-inclusive dining. Reservations are required, as space is limited.
About Mirepoix USA
Mirepoix USA sources the highest quality specialty gourmet foods from manufacturers and importers across the United States. The company began marketing foie gras and other traditional French foods in 2004, and currently offers over 40 foie gras selections, fresh truffles, caviar, Wagyu beef, Iberico ham, domestic and imported cheeses, and a wide selection of gourmet gift baskets and gourmet food. In 2012, Mirepoix USA began offering live tasting events in the US and food and wine tours in Europe and the US.