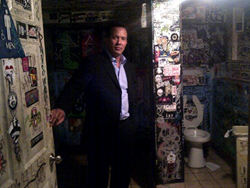 I know that it's been rumored that this was actually a fantasy of mine that I had wished upon an enemy, however I won't comment on that one
Beverly Hills, CA (PRWEB) August 29, 2014
Brian Dill holds a press conference in a public restroom in Hollywood to announce the pre-production of the sadistic unauthorized sex change revenge thriller Altered.
Brian Dill has been set to Direct the Revenge Thriller, Altered, that revolves around a sadistic revenge plot carried out by a female plastic surgeon on a dirty LA cop.
Originally written by Dill over ten years ago the project is now set to begin principal photography in November.
"This is a project that is extremely close to my heart. I know that it's been rumored that this was actually a fantasy of mine that I had wished upon an enemy, however I won't comment on that one", remarked Dill at a press conference that was held in true punk rock style on Friday in a graffiti covered public restroom in Hollywood.
"Altered will be soundtrack driven and I will be hand picking an eclectic mix ranging from Gothic and Hard Core Punk to Clasical. This is a vision that I am excited to finally bring to the screen," commented Dill at the press conference.
Dessler Media founder, Willem Dessler, is serving as executive producer on Altered.