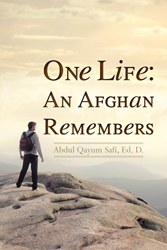 Safi writes with eloquence and sophistication about a country that is striving to surviveunder the strictures of fundamentalism and ancient tribal enmities.
(PRWEB) August 29, 2014
"One Life: An Afghan Remembers" is the inspiring story of struggle that paid off. The book offers readers an uplifting story of how perseverance and hard work pay off in spite of obstacles that stand in the way.
The eldest of ten children, Abdul Qayum Safi had to survive on very little while living in a very traditional and conservative society. His path isn't easy from the beginning, having moved from his birth place due to war, and then starting all over again with his family in his parents' home village. But Safi never gives up his dreams, and after numerous setbacks, keeps reaching for a better life. When he earns scholarships for academic excellence, his studies expose him to different countries, cultures, and opportunities. After attending boarding school in Kabul, he continues on his quest to Lebanon and the United States where he earns a doctorate degree from an Ivy League university.
Safi finally earns the happy family life and career that he always wanted. Inspired by the Pashto saying, "No matter where a person goes, he always comes back to the children of his ancestors," the profits from this book will benefit a girls' high school and two boys' schools in Khas Kunar, Afghanistan, which brings the miracle of inspiration full circle. This memoir was written to bring hope to others in their times of struggle.
About the Author:
Abdul Qayum Safi was born in the valley of Pech, Afghanistan. Due to a breakout of war, his family relocated to his parents' home village of Tanar, Khas Kunar. He received three scholarships from the U.S. Agency for International Development to study at the American University of Beirut, Lebanon, and later at Teachers College, Columbia University in New York City. He holds a doctorate in education from TCCU and has worked in Afghanistan, Kuwait, and the U.S. The author has been married for 34 years and has three children and two grandchildren. His nonprofit organization is Afghan Rural Schools, a 501c3 charitable organization (http://www.afghanruralschools.org).
"One Life: An Afghan Remembers is a fascinating memoir, not only for its detailed descriptions of the author's remarkable journey and homeland, but also because it offers insight into the history, culture, religion, education, and language that help to explain why contemporary Afghanistan is so complex. Abdul Qayum Safi demonstrates that he is able to think big and act pragmatically. His story of survival serves as a poignant reminder that, if required, we can endure more than we should have to, and emerge stronger for having done so." - Nancy Walker, Clarion Review
Book Details
Genre: Autobiography
Author: Abdul Qayum Safi
Format: Paperback, 301 pages
Pub date: August 2014
"ONE LIFE: AN AFGHAN REMEMBERS" (ISBN: 978-1-47006-880-6) is now available for $16.95 and can be ordered through the publisher CreateSpace Independent Publishing Platform or at Amazon and Barnes and Noble.
Author Marketing Ideas (AMI)