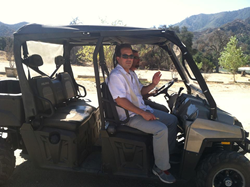 (PRWEB) August 29, 2014
Dessler Media VP, Brian Dill, announced that the Dessler Media Sky Ranch, a 5-acre estate flying high above the banks of the Truckee River near Lake Tahoe will be sold at auction with the proceeds going to the Dessler Foundation to save the Black Rhinoceros. Ideal for aviation enthusiasts, the property, dubbed Truckee Landing, offers two airplane hangars, a shared airstrip, and an impeccable log cabin home — all a mere 20-minute flight from San Francisco and Silicon Valley. The auction will be conducted in cooperation with Don Nicholson of Howard, Gold and Emerson.
"The property is a little slice of heaven: 360-degree views up and down the river; close to town, yet far enough away to feel secluded; and with wildlife everywhere — deer, squirrels, rabbits, and even bald eagles," stated the seller, Willem Dessler. "We've had so many fun times here with family and friends. We've hosted parties of over 100 people, even some wedding parties due to the beautiful setting, and we love taking airplane rides up and down the valley. And the best time of the year — Fall. The entire view transforms as the leaves change, and the weather is cool and crisp. It's simply perfect."
Perhaps the most notable features of Truckee Landing are its amenities for the flying enthusiast. The larger of the property's two airplane hangars can host up to four airplanes, depending on the size, while the small hangar can accommodate an additional two planes. A shared grass runway measuring 150 feet by 2,600 feet features a degree and a half of slope, for easy takeoff and landing. If not used for planes, the hangars would also be ideal for storing your car or wine collection, or for any other hobby showcase.
"Truckee Landing is truly unlike any other property. Not only is the landing strip rare, but also the expansive acreage, surrounded by lush gardens and fields, suspended on the bluffs of the riverbanks, is unbelievable. You really have to visit to experience how breathtaking it is," stated Nicholson.
"Aviation estates with private airstrips are few and far between, especially in the Northern California," stated Don Nicholson, who will be auctioning off the property. "Truckee Landing is a unique offering, and we're excited to see the value identified by buyers who understand and appreciate its rarity."
Previously offered for $20.599 million, Truckee Landing will be sold to the highest bidder during a live auction on September 17th. A 2% commission is offered to the buyer's representing broker. The property is open for preview daily from 1-4pm and by appointment. See Auction Terms and Conditions for full details. For more information, call (424) 281-4059.