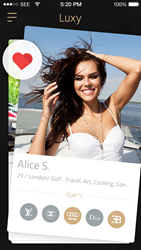 (PRWEB) September 04, 2014
With a very large active number of users and after getting a lot of positive feedback from people from all around the world, a new version of Luxy was just released which can be considered one of the biggest updates yet. The fact that the app reached this version along with the simple idea that there were 3 updates in just one month clearly show the developer's intentions of improving the way users feel while also making sure that high attention is offered to all of the suggestions which can later be used to improve the app.
This update brought more stability improvements along with a couple of more features which aim at making the app unique and fun from all the points of view, which is not usually something that other online dating applications offer. Due to the fact that the features are interactive and fun, more than 100,000 likes were given, thus proving that everything is going ahead as planned. Each day that goes by takes Luxy a step closer towards fulfilling its main goal- becoming the most luxurious dating app ever.
Research that was recently carried out has shown that most of the users of Luxy have an average income which is well over $200,000 yearly, thus making it a place where some of the richest men and women can meet without facing any issues. Ranging from businessmen, politicians and celebrities, Luxy has got it all in one place which works great towards making dating for those who are busy and simply don't have time for a planned love life to find people to date easier, and perhaps the love of their lives.
Anyone who would like to try out and learn more about the app can easily click right here and be taken to the official site.
About Luxy
Luxy represents one of the world's top notch luxury dating sites, designed in such a way to suit successful people of all kinds who just don't have the time needed to find a person to date. Through the smart user interface and thanks to the fact that it offers an active user database, Luxy has the full potential needed to become the world's greatest luxury dating app.