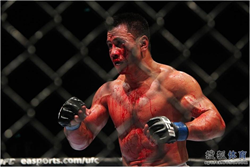 After my eyes got injured in the first round, I lost my distance and could not focus my eyes
Atlanta, GA (PRWEB) August 30, 2014
The KSF (Kung Fu Sanshou Federation) presents the 25th US Open Challenge and K.Warrior Search on November 8th, 2014 at the Mobile Civic Center in Mobile, Alabama. For over 20 years, these events have introduced many notorious and notable fighters for some top international fighting organizations such as Strike-Force, IWF and the UFC.
Among these, KSF along with the Shaolin Institute, have seen numerous fighters leave its doors armed with the virtues of true indomitable Shaolin spirit, among them Patrick Barry, K.J. Noon, Li Jie, Karika Wael Mohammed, and Cung Le. Cung Le's most recent UFC fight on August 23rd captures how that spirit can rise up and triumph over life challenges.
Cung Le is a true warrior, living in both Eastern and Western worlds. He is the hero we all want to be; one that fights through pain and time with relentless perseverance. He proved it at the UFC Fight Night 48 at The Venetian Macao's Cotai Arena in Macau.
Audiences all over the world watched the match with tears of inspiration. They saw a fighter that would not give in, would not give up, and endlessly coming back to meet his challenging opponent.
During the first round Cung Le's eye was injured in the first combat interaction. As Le told his coach Master Shi DeRu, his injured right eye started to lose focus. Stunned, he appeared to viewers around the world to lack precision and awareness in his famous side-kick blocking defense.
In the 2nd round both his eyes became almost completely closed. He lost vision in his right eye and was injured with a cut on his left eye. Blood was gushing from around both eyes. He could barely see anything. He may have lost his vision, his ability to judge distance, and his ability to mentally focus but Le never lost his fighting spirit. He reached deep within his own heart to fight through his wounds, to fight his own doubt, and to fight on for his honor and his audience.
Most ordinary fighters when losing their ability to see and rapidly losing mental focus, with blood covering their entire bodies, will naturally choose to protect themselves by giving up. They will take a convenient way out of the fight, as have been seen in so many fights in the UFC.
Cung Le however demonstrated that he is not an ordinary fighter. He may not have won the match, but he did not lose by giving in or giving up. He never complained and courageously kept facing all threatening challenges without hesitation. Once the fight was decided, he gave all credits to his foe at the end of the battle.
Cung Le is among one of the greatest fighters in the world. Le refused to use his injuries by the open glove's cut as an excuse to give up. He would not accept any excuses to let his audience down, or to let Dana White, his UFC boss, down.
Le kept his promise to UFC and especially to all his Kung Fu brothers and sisters, his Kung Fu fans, his martial arts fans and audience worldwide. That is what it takes to be a great fighter, a man of integrity and character.
"Many people have a fighter's spirit in their hearts," explained Master Shi DeRu. "It does not matter whether people are fighting cancer, diabetics, immune deficiency problems, back or knee problems, or simply energy deficiency issues or depression, they want to stay alive to be useful to themselves and to the world. However, only a few keep going. Only few refuse to be beaten by disease or challenges. Those that refuse eventually beat diseases with victory."
According Master Shi DeRu many martial arts enthusiasts want to be fighters, or want to be successful in other areas of their lives, but give up when they meet the slightest bit of challenge. Some procrastinate when "success" is not immediate. This can happen to any of us throughout our lives.
Here are a few words for thoughts from Master Shi DeRu, "We often complain that we don't succeed because we don't have the luck, certain advantages, or because someone else did something to us. These are just excuses. Instead of finding excuses, we need to look into ourselves and see that we are really just failing ourselves by choosing to give up."
Indomitable Shaolin Spirit
This is the spirit that Master Shi DeRu's Shaolin Institute teaches. Building on 1,500 years of Shaolin tradition and training, Master Shi DeRu has been emphasizing Indomitable Shaolin Spirit to students and disciples in the United States and abroad for over 30 years.
This spirit encompasses a state of well-being, both physical and mental. With it, students are encouraged to practice positive Chi and state of mind along with practicing the many Shaolin physical activities.
This state of well-being is a philosophy that the Shaolin Institute emphasizes into the daily lives of its students, to help them through the trials and tribulations of life, especially when faced with tests of strength and perseverance. For the entire article, go to http://news.shaolin-world.net/shaolinspirit.
About US Open Challenge and K. Warrior Search
US Open Challenge and K. Warrior Search is part of US Open International Martial Arts Championship operated by Shaolin Chan Foundation's KSF (Kung Fu Sanshou Federation) which is an non-profit organization under 501 (c). http://usaskf.org/
US Open Challenge will host all forms of Kung Fu, weapons and continuous fights in the morning, starting at 10:00 AM at the Civic Center, in Mobile, AL. For the evening main event, doors open at 6:00 PM. All advanced fights and K. Warrior Search finals will not begin until 7:00 PM at night. For more information, call 770-286-9808.