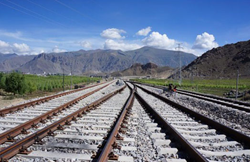 Tibet Railway is the highest railway in the world.
lhasa,tibet (PRWEB) August 31, 2014
Tibet Railway, the highest railway on the planet, is the most scenic and popular tourist route in China. Many people want to travel to Tibet by train, but it's always hard to get the tickets. Tibet Vista, the biggest local tour operator, now offers very useful train ticket booking advice.
1.The best city to leave for Tibet by train
At present, travelers can go to Lhasa by train from Beijing, Shanghai, Chengdu, Chongqing, Guangzhou, Lanzhou, Xining, Shijiazhuang, Nanjing, Zhengzhou, Xi'an and Taiyuan. But those who carry heavy luggage may find it difficult to board the train, which stops only 2-3 minutes. "Some travelers want to make a stop to enjoy the stunning plateau landscape," said Debbie, the OP manager of Tibet Vista. "I would suggest they stop at Xining. First of all, the most beautiful part of Qinghai-Tibet Railway is from Golmud (the next stop of Xining) to Lhasa. Travelers starting from Xining have the perfect timing to fully enjoy the scenery; Secondly, all the trains starting from Xining to Lhasa stop for 10-20 minutes, long enough for boarding," Debbie added.
2. Booking the train tickets
The easiest way is through the official website of China Railway Bureau (12306.cn). After booking a ticket online, one will get a code, which he can exchange for the paper ticket at the train station in the departure city. "Many travelers want to book tickets by themselves, however, the entire website is in Chinese," said Debbie. "If you have Chinese friends who can help, that will be good. Otherwise, you can book train tickets via a travel agency. Railway to Tibet, especially Beijing to Lhasa Train is a very hot tourist line. It's very hard to get tickets during the peak season."
"We are confident to help our travelers to get the train tickets because we work with many booking agents in China, such as Beijing, Xining, Shanghai, Chengdu, etc. But, please inform us as early as possible. After we receive your orders, we will upload the purchase plan to our booking agents, which will make reservations with the China Railway Bureau. This procedure takes about several days," said Debbie.
3. Train Travel in Tibet
Lhasa-Shigatse Railway put into use in August 2014, the 251-kilometer and three-hour-long journey has involves 14 stations, traveling along the Yarlung Zangbo River. The railway extends the Qinghai-Tibet Railway and makes the terminal near to Mount Everest. Tourists can travel by train from Lhasa to Shigatse then start Everest Travel from Shigatse.
About Tibet Vista
Tibet Vista (http://www.tibettravel.org) is the best local tour operator, sending more than 1,000 individual travelers and over 100 tour groups to Tibet annually. It helps travelers obtain the Tibet Travel Permits, book air/train tickets to Tibet and customize their tours.