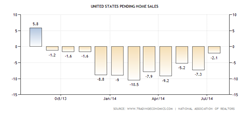 steady job additions to the economy are helping family finances and giving them added confidence
Chicago, IL (PRWEB) August 29, 2014
Peoples Home Equity was pleased to see that both pending home sales in July and weekly home sales for last week increased. This positive combination comes Wednesday's first consecutive weekly mortgage application report in over 4 months!
On Thursday, August 28th, pending home sales were announced by the National Association of Realtors (NAR). The pending home sales index increased by 3.3% but was just 2.1% shy of July 2013. However, being -2.1% shy is the best year-over-year margin pending home sales have seen since November 2013. In a change of rhetoric Lawrence Yun, chief economist at the National Association of Realtors said "Interest rates are lower than they were a year ago, price growth continues to moderate and total housing inventory is at its highest level since August 2012." Yun also added that he thought "More importantly, steady job additions to the economy are helping family finances and giving them added confidence to enter the market." Pending home sales increased across all parts of the country except the Midwest. Pending home sales in the Northeast rose 6.2%, sales in the south rose 4.2%, in the west 4.0%, while in the Midwest a marginal -0.4%. Overall the report was very positive.
An additional home sale report, also released on Thursday, came from DQnews.com titled "National Home Sales Snapshot". The report showed that weekly home sales increase by 1.8% to 264,936. Despite the significant weekly rise, home sales actually increased their year-over-year negative margin from -2.7% last week to -3.5% this week. Median home sales prices declined by -1.1% to 235,000. The margin of home sales also decreased versus 2013 from 3.5% last week to 3.1% this week. However on a 3 year basis, weekly home sales remain 30.7% higher and median home prices are 26.3% higher.
The housing market has proved over the past 2 weeks that it remains on a course of recovery. Americans earning to enter the housing market should consider now as a good time to buy while mortgage rates are relatively lower than a few months ago.