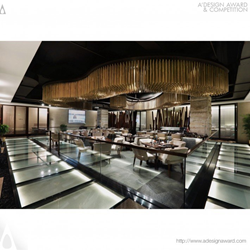 Como, Italy (PRWEB) August 29, 2014
A' International Design Award and Competition is pleased to announce that the interior design project, Takemoto by Arthur Wing Fat Chan, became winner of the renowned Golden A' Design Award in Interior Space and Exhibition Design Competition.
Concerning Takemoto
Arthur Wing Fat Chan, the lead designer of the awarded project Takemoto, said "Takemoto is a new theatrical dining experience that integrates traditional Japanese cuisine. The 650 m2 restaurant contains an open dining area for 30 people, as well as 11 VIP rooms. The open dining area and stage like food bar are surrounded by an illuminated glass pathway, which turns the center of the restaurant to a stage. Natural bamboo ceiling and other features such as usage of directional spot lights in a dark color, the open ceiling, and traditional elements help create a dramatic setting." Learn more about this design: http://www.adesignaward.com/design.php?ID=26364
Team Members for TAKEMOTO Japanese Restaurant
TAKEMOTO Japanese Restaurant was conceived by Arthur Chan, Byron To, Gavin Hsu, and Ben Leong.
The Golden A' Design Award:
The Golden A' Design Award is a prestigious award given to top 3% percentile designs that has carried out an exemplary level of excellence in design. Entries to the A' Design Award & Competition are peer reviewed and anonymously judged following strict evaluation guidelines. Laureates of the A' Design Award & Competition are eligible to receive the A' Design Prize which includes a series of PR and Marketing tools such as an article feature at DXGN network in addition to the design award trophy, hardcover yearbook of best projects, the design excellence certificate, as well as invitation to attend the Gala-Night and Exhibition in Italy.
About A' Design Award and Competitions:
The ultimate aim of the A' Design Accolades is to create an awareness for good design practices and principles by featuring the best examples of design from all countries and in all disciplines, while pushing designers, artists, and architects from across the globe to come up with superior design projects that benefit society. Learn more about the International A' Design Awards at http://www.whatisadesignaward.com.