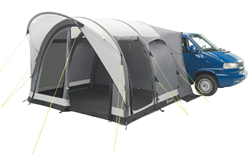 (PRWEB UK) 29 August 2014
Whatever the weather, it's this time of year that summer holidays wind up and the kids return to school, and many campers without children, especially those with a Motorhome or Caravan and a little more time on their hands, take the opportunity for elongated trips around the quieter campsites in the UK and abroad.
Campervan or Motorhome owners who want to add an extra bit of living space at the campsite yet still keep the freedom to use their vehicle on a daily basis need a Drive Away Awning.
Many campers used to shy away from the old, complicated awnings and find some of the terminology a tad confusing, but the days of complex pole structures and baffling instructions are gone. Most drive away awnings are now very quick and easy to assemble, and some manufacturers now even make assembly videos to show the user exactly the steps they need to follow.
A Drive Away Awning is really just a tent with a short tunnel attached which fixes onto the vehicle, usually by means of a beaded strip which connects to the gutter rail / fixing rail on the Motorhome or Caravan.
In recent years Drive-away Awnings have become very popular and are a familiar sight at campsites up and down the country. They are a great value add-on to create extra storage space or a living or sleeping area.
Whether it's used to set up a camping table and chairs and use it as a dining area, to empty out a jam packed camper to create a bit of space, or to use as an extra bedroom (some come with built in or optional extra bedroom pods), World of Camping find that most Campervanners and Motorhomers now prefer to use one when setting up at the campsite. Once set up, the user is then free to easily disconnect and reconnect the awning... and drive away, leaving the awning freestanding at the campsite (like a normal tent), without the need to dismantle it, or put away camping furniture and other camping equipment every time they venture off to explore the local area.
Choosing the right sized Awning:
The attachment height is the most relevant dimension. Most Vehicles will have a gutter rail or awning rail. Simply measure the height from the ground to the rail. Make sure this is on flat level ground to get the most accurate measurement.
If there is no rail on the vehicle then there are other methods of fixing it to the van.
When browsing the Drive Away Awning Section of the World of Camping website, click on the 'Specifications' tab on the awning of choice to check the attachment height range of that Awning. There is generally a fair amount of leeway. Most awnings will fit a VW T4 or T5 / Mazda Bongo size van, but customers should always check before buying, especially if the awning is to be used on a larger vehicle.
How to fix an Awning to a vehicle?
There are various ways of attaching an awning to a vehicle, the simplest being to extend guylines over the roof of the vehicle and into the ground on the other side. For a steadier connection,the following methods can be used, depending on which rails and fittings are on the vehicle. The main methods are as follows:
1) Vehicles with built in Awning Channel or Awning Rail
Some vans have a rail or a pre sunk channel in which to slide the 6mm beading from the edge of the awning directly into. This is a great and easy way to attach it if the user doesn't plan to 'Drive Away' at any point (simply feed the awning beading into the channel before erecting it).
However most campers obviously do wish to enjoy the freedom to drive away, in which case a couple of extras are needed to enable attachment – These being the the double edged beaded tape (Twin Piping) and Figure of 8 Strip.
2) Vehicles with a Gutter Rail
It's really easy to connect an awning to a gutter rail. The user simply needs a few lengths of Figure of 8 Tracking Strip. These are 75cm long per section so generally 3 or 4 will suffice (depending on the length of the awning).
When one needs to drive away it's easy to unhitch (and re-attach upon return) the awning from the gutter rail.
3) Vehicles with a more Shallow Gutter Rail
Some vehicles (older VWs and some other older makes and models) have a more shallow gutter rail which is no good for gripping the Figure of 8 Strip. To connect an awning onto such a rail campers will need a Pole + Clamp Kit. Most awnings have a pole sleeve which runs parallel to the beading, just slide the pole through the sleeve (a pole is usually included) and clamp it onto the rail.
This is also a handy method if there is no rail on the van but there are parallel roof bars. Either clamp or strap the pole to the rail.
4) Vehicles with Fiamma/Omnistor Wind Out Awnings already attached
Fiamma F45/F65 Awning
Wind Out Awnings are a great option to quickly set up and get some instant shade. For campers who already have a wind out awning they can widen their options by getting a Drive Away Awning and attaching it directly onto their Fiamma F45. Annoyingly, the channels in windout awnings are 4mm, when every other awning beading is 6mm. So, to attach, some Figure 8 Strip and some 4mm/6mm Twin Piping are needed.
worldofcamping.co.uk is an online retailer of camping equipment and leisure accessories including folding chairs and tables, other portable camping furniture, 3-way fridges and coolboxes, BBQs, and lots of tents including awnings for caravans, motorhomes and campervans. They also stock a wide assortment of poles and accessories for awnings.