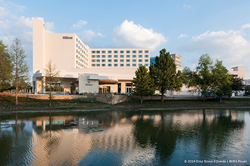 "The interior of the hotel provides the level of sophistication and class expected in a Hilton, with a combination of rich, high-end finishes and natural materials," said Dennis Gulseth, project manager for BOKA Powell.
Plano, TX (PRWEB) August 29, 2014
BOKA Powell has completed architecture and interior design for the new Hilton Dallas/Plano Granite Park hotel, a sophisticated four-star, 299-key, 262,500 square-foot conference center hotel opening this month in the Granite Park mixed-use development, developed by Granite Properties.
"The hotel's design reflects nature and industry, paying homage to Plano's origins as a farming and ranching community and celebrating its growth into a major business center in North Texas," said Dennis Gulseth, project manager for BOKA Powell. "The interior of the hotel provides the level of sophistication and class expected in a Hilton, with a combination of rich, high-end finishes and natural materials."
"The addition of a full service hotel to Granite Park is something which has been in our master plan since the park was first conceived" said David Cunningham, Granite Properties Director of Development/Construction. "Hilton is extremely pleased with the high quality of design and attention to detail, and we at Granite have always valued BOKA Powell's commitment to collaboration and their continued partnership."
BOKA Powell designed an open main lobby as a destination for hotel guests and visitors from the surrounding business park and local community. Shared spaces include a dramatic framed cocktail bar adjacent to a technology lounge where patrons can deliver impromptu presentations, print boarding passes and work on laptops. The full-service Carso Mediterranean Grill includes communal dining tables to promote mingling, and a "Grab 'n Go" café offers guests quick, convenient meal choices beyond room service.
Patrons will enjoy an outdoor pool and lounge, an outdoor dining area, and a fitness center. Guest rooms and bathrooms incorporate upscale finishes and lighting, with stone countertops, custom sinks, lighted mirrors and back-lit mosaic tile.
From the linear lobby space, the walls curve toward the conference center and meeting spaces. The conference center's design reinforces the strong connection to nature throughout the hotel, with sculptural forms, richly textured materials and decorative lighting creating unique settings. Dramatic light sculptures and undulating architectural ceiling details emulate water and movement, referencing the water feature that surrounds the hotel property.
"We designed the meeting spaces with a looser flow to encourage discovery. Our goal is to provide an experience the guest will remember as they journey through a series of beautiful, yet unexpected spaces," said Gulseth. "The specialty, custom designed lighting throughout the property makes the hotel come to life."
An impressive ballroom draws the eye upwards to an organic, flowing ceiling and eight gleaming glass chandeliers that resemble waterfalls.
The hotel is completely custom in its design — a one-off for Hilton, said design principal Don Powell. "The architecture plays off of Granite Park's contemporary buildings, with opulent windows but a decidedly residential twist," said Powell. "White, powder-coated mullions and a split-face stone podium soften the exterior and distinguish the hotel from the surrounding curtainwall and precast office buildings."
A pedestrian bridge links to the neighboring office buildings, including the new 300,000 square foot Granite Park IV, also designed by BOKA Powell. Heartland Payment Systems, telecommunications company Mitel, and Guardian Life Insurance have signed major leases in the building.
The waterfront boardwalk also connects the office park and hotel to the 35,000 square-foot conference center at the Hilton, developed with public financing assistance from the City of Plano. A separate entrance on the north side of the property facilitates traffic flow for large events.
The only full-service Hilton opening this year, the hotel and conference center will serve nearby corporate users within Granite Park and major nearby corporate campuses.
The hotel is located at 5805 Granite Parkway in Plano, at the intersection of the Sam Rayburn Tollway and the Dallas North Tollway. Granite Properties is the owner and developer of the hotel, and BOKA Powell provided full design services, including shell building design, interior design, and FF&E. Austin Commercial is the general contractor.
About BOKA Powell
BOKA Powell (http://www.bokapowell.com) is a nationally recognized architectural design, planning and interior design firm, with office locations in Dallas, Fort Worth and Austin, Texas. BOKA Powell's areas of focus include hospitality, commercial office, healthcare, higher education, urban residential and mixed-use planning and design. The build-out at Granite Park is being executed based on a master plan created by BOKA Powell. The firm designed Granite Park's other office towers, known as Granite Park I, II, III and IV. Additional development for Granite Properties is currently on the boards.
About Granite Properties
Granite Properties is a privately held commercial real estate investment and management company with offices in Atlanta, Dallas, Denver, Houston and Los Angeles. Since 1991, Granite Properties has acquired or developed more than 20 million square feet of commercial real estate totaling $3.4 billion. With a primary emphasis on office properties and an unusually long-term view, Granite Properties places a high priority on creating exceptional work environments for its customers while conserving natural resources.