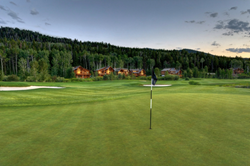 Teton Springs Lodge & Spa was recognized as the "Best Hotel in Idaho" by U.S. News & World Report in 2014 for the third consecutive year.
Victor, Idaho (PRWEB) August 29, 2014
While the calendar may say "back-to-school" for the kids, moms and dads are already looking ahead to winter holiday getaways where family members of all ages and interests can find something to get excited about.
With its recognition as the 2014 "Best Hotel in Idaho" by U.S. News & World Report – and anticipating another exciting season of Heli-Skiing adventures with landings and departures on site – the Teton Springs Lodge & Spa is uniquely positioned to deliver winter getaways with something for everyone.
Skiing

Heli-Skiing guests will have access to over 305,000 acres of terrain in Western Wyoming and Eastern Idaho's most dramatic and breathtakingly beautiful backcountry. With its unique permit for on-site landing and takeoff, Teton Springs Lodge & Spa is the only hotel in the region offering this incredible service, provided by High Mountain Heli-Skiing.
Groomed cross-country skiing and snowshoeing is available on-site.
Teton Springs Lodge & Spa is also ideally located – just 40 minutes away – for day trips to two of the Northern Rockies most acclaimed resorts - Grand Targhee and Jackson Hole Mountain Resort, including snowcat powder skiing at Grand Targhee.
Spa & Dining

Guests are pampered at the noted 5,000 square-foot Stillwaters Spa & Salon - featuring a full range of treatments and services in seven spacious treatment rooms, including a two-person therapy suite.
Range at Teton Springs, featuring nationally recognized Chef Rick Sordahl, offers outstanding fresh fare in a spectacular, yet casual environment.
For travelers headed to the region prior to the winter sports season, Teton Springs Lodge & Spa also boast one of the finest golf courses in the Intermountain West – and new private fly fishing access to a 65-mile stretch of the Snake River. The Byron Nelson designed 18-hole Headwaters Course welcomes guests of Teton Springs Resort & Spa, complete with "Stay and Play" packages. Through its operating agreement with Natural Retreats, guests also have access to one of the best tailwater and dry fly fisheries in the United States at the South Fork Lodge, located in nearby scenic Swan Valley.
Teton Springs Lodge & Spa was recognized as the "Best Hotel in Idaho" by U.S. News & World Report in 2014 for the third consecutive year. It also achieved a 'Certificate of Excellence' award and was named the "Top Resort in Idaho" for the past 3 years based on guest reviews of 334 hotels and resorts on TripAdvisor.
Natural Retreats assumed operation of the Teton Springs Lodge & Spa in April. Together with continued operation of the renowned South Fork Lodge on the Snake River – Natural Retreats provides an unprecedented experience in the greater Yellowstone ecosystem with services and amenities for everyone from hardcore anglers to families, destination weddings to corporate gatherings.
Booking is now open at http://www.naturalretreats.com/us/teton-springs-lodge or by calling +1 (877) 805-7794.
About Natural Retreats
Natural Retreats is a luxury travel company specializing in spectacular, unique destinations that balance elegance, adventure, and an uncompromising commitment to personal service. Spanning the United States, the United Kingdom and Ireland, Natural Retreats offers a variety of accommodations including resorts, inns, lodges, castles, and private vacation homes. To learn more about Natural Retreats, view its worldwide portfolio of properties and book travel, visit http://www.naturalretreats.com.