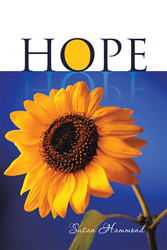 'There are always options, be open to what is offered,' said Hammond. 'Never let adversity stop you from moving toward your goal. You must have hope.'
San Diego (PRWEB) September 02, 2014
Retired educator Susan Hammond feels strongly about supporting students on the periphery of mainstream schools, whether English Is their second language or they come from a low-income family.
Toting the Highly Qualified educator title, Hammond's passion for teaching and love for her students evolved into a new novel series that she hopes will make a difference in children's education and lives.
The first installment in the series is "Hope," an adventure fiction that serves as a tool for encouraging students of all skills levels to read. Young boys will be attracted to the adventure and young girls will be interested in the strong female lead.
"Hope can help any situation, " said Hammond. "Maybe not the way you thought, but move you forward in a positive direction."
"Hope" follows a young girl, Sarah, as she journeys west to find her father during the Mexican American War. Sarah meets all kinds of people along way and doesn't follow the traditional societal standards of the time.
This new novel entertains young readers while also encouraging them to read, learn and grow. Choice vocabulary has been woven throughout the exciting tale, and teachers and parents will be happy with the age-appropriate language.
Hammond's ultimate goal is that her young readers and their parents will take away an understanding that all it takes is hope to move forward.
"There are always options, be open to what is offered," said Hammond. "Never let adversity stop you from moving toward your goal. You must have hope."
"Hope" by Susan Hammond
Hardcover, $19.10
Paperback, $9.10
e-Book, $3.99
ISBN: 978-1-49072-725-7
Available at amazon.com, barnesandnoble.com and bookstore.trafford.com
About the author
Susan Hammond is a retired English and social studies teacher with a master's degree in education. She currently tutors for an organization called Reality Changers, a renowned program for educating at-risk students. Prior to her career in education, Hammond was a marketing executive for several multinational financial services companies and had a chance to travel to several different countries around the world. Hammond currently resides in Chula Vista, Ca. She does not have children but considers all of her past students her children.