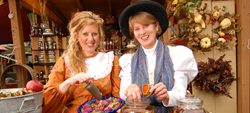 Branson, MO (PRWEB) August 31, 2014
Branson Missouri is known for its endless attractions and activities that keep its guests hooked. Aside from the tourist spots in the area, Branson also boasts of the festivals it hosts for the year. Branson locals and guests are always in for a treat whenever there are festivals in the area. Thousand Hills Golf Resort is encouraging it's fall guests to take advantage of one such festival--the National Harvest & Cowboy Festival.
This festival is held in Branson's Silver Dollar City every September to October. This year the festival runs from September 12th through October 25th Guests visiting Branson in these months will be treated to a festival which features more than a hundred of the best craftsmen and women in America and all over the world. Silver Dollar City has also been known as "The Home of American Craftsmanship" because it gives craftsmen the chance to showcase their talents in crafts making. Some of the crafts making skills that can be seen in the National Harvest Festival are glassblowing, basket weaving, painting, and many others. Visitors can also take home a unique souvenir for themselves and for their loved ones back home.
Silver Dollar City provides its guests with more entertainment by bringing in the Texas Trick Riders, a group of trick riders who work with trick horses. There will also be Roman riders, ropers, comedians, and a lot more. For the guests who have enjoyed the shows in Silver Dollar City, they will see the National Harvest Festival bring back the original production The Pinkerton Man, which will be performed in the Echo Hollow Amphitheater. The stunts show in The Pinkerton Man will include three-story falls, rappels, and street fights. Music of The Pinkerton Man will be provided by the Sons of Silver Dollar.
The National Harvest Festival will not be a festival fully dedicated to crafts only. In fact, it also pays tribute to the American cowboys by incorporating music into the festival. Some of the performers that the guests will enjoy are Riders in the Sky, The Carolyn Martin Swing Band, Kristyn Harris, Jimmy Burson and many more.
Another feature of the National Harvest Festival is the Buck Taylor's Cowboy Emporium. This will surely delight the people who are huge fans of the TV show Gunsmoke. This gallery, which runs the duration of the festival in Silver Dollar City's Frisco Barn, showcases the magnificent pieces of cowboy art created by Buck Taylor. Other craftsmen to watch out for are Tina Richards, known for her framed hand-painted turkey feathers; Don Dane, known for his western art; Keith Knight, known for his carved benches and signs; Judi Orr, known for her Gourd Art, and a lot more.
With these activities and attractions, one would think that they have had enough already. But Silver Dollar City aims to bring you even more. The famous theme park has partnered with Midwest living to offer Culinary and Craft School Classes throughout the festival. There will be classes like a BBQ Smoker class, tailgating class, Southeast Asian cuisine, and many others.
For more information regarding the National Harvest Festival, visit http://www.silverdollarcity.com. Thousand Hills Golf Resort is a condo and cabin rental resort in the heart of Branson located minutes from Silver Dollar City and many other Branson attractions. To plan their festival lodging guests are encouraged to visit http://www.thousandhills.com for pricing, reservations, and visitor information.