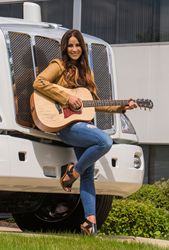 It was such a great experience to get to come to Michigan, meet the people that build their products, and see what a great company Webasto is. – Chelsea Bain
Fenton, MI. (PRWEB) August 29, 2014
Webasto Thermo & Comfort North America, a world leader in engine-off vehicle heating equipment, is looking forward to showing truck drivers and owner-operators an exciting time at NASCAR events with partner, Chelsea Bain.
Chelsea Bain infuses her style of Rock & Roll into Country music, and is performing live on the Webasto stage at four upcoming NASCAR events as part of the 2014 Webasto Concert Series. The events are scheduled to be during the following 2014 NASCAR races: Oral-B USA 500 on August 29-31, OSRAM Sylvania 300 on September 19-21, Bank of America 500 on October 9-11 and AAA Texas 500 on October 31-November 2.
Webasto launched the Webasto Race To Win Contest to their fans earlier this year. Fifteen winners have been selected, and each winner has received two tickets to a select NASCAR race and Chelsea Bain performance during the 2014 Webasto Concert Series. Additionally, a signed Taylor guitar will be the prize to one lucky Webasto fan as part of the Chelsea Bain Guitar Giveaway by Webasto. Fans can enter the giveaway at any of the concerts or online via the Webasto Heating & Cooling Facebook page (http://www.facebook.com/webastoheatingandcoolingus).
The country singer also spent a day at the Webasto North American headquarters in Fenton, Michigan, doing a photoshoot to promote the Webasto heating product line that will be featured in upcoming industry publications. "It was such a great experience to get to come to Michigan, meet the people that build their products, and see what a great company Webasto is," said Bain.
Country music fans can check out new music from Chelsea Bain by visiting http://www.chelseabainmusic.com, including her new single "Never Ever Gone" that was just released to SIRIUS XM Radio.

About Webasto:
Webasto Thermo & Comfort North America is a subsidiary of Webasto Thermo & Comfort SE. Webasto Group based in Stockdorf near Munich has been a family-owned business ever since the company was founded in 1901. The group operates internationally at over 50 locations (over 30 of these production sites) in the divisions roof and thermo systems. Webasto is one of the top 100 automotive suppliers worldwide. The company´s core competencies encompass the development, production and sales of complete roof and convertible systems as well as heating, cooling and ventilation systems for passenger cars, commercial and special vehicles, recreational vehicles and boats. For more information please visit http://www.webasto.com.
Corporate Contacts
Webasto Thermo & Comfort North America, Inc.
Josh Lupu
Ph. 810-593-6060
E-Mail: josh.lupu(at)webasto(dot)com
Liz Fraim
Ph. 810-593-6062
E-Mail: liz.fraim(at)webasto(dot)com
Publicity Contact for Chelsea Bain
Campbell Entertainment Group
Craig Campbell
Ph. 615-210-3602
E-Mail: craig(at)campbellentgrp(dot)com