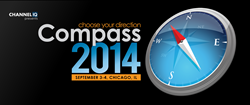 the largest conference in the U.S. addressing online channel management and brand protection challenges
Chicago, IL (PRWEB) August 29, 2014
In its fourth year, the Channel IQ conference, Compass 2014, will take place in Chicago next week, September 3-4, 2014 at The Chicago Marriott Downtown Magnificent Mile. Located in the heart of beautiful downtown Chicago, this two-day event is the largest conference in the U.S. addressing online channel management and brand protection challenges that face the business-to-business (B2B) industry online. Host to over 250 industry leaders from around the globe, this educational and networking event focuses on the latest topics of interest driving discussions in the online industry: brand protection, managing channel conflict, counterfeiting, managing marketplaces, pricing policy, and retailer management.
Industry Thought Leaders Join Compass 2014 for Presentations
This year's summit features keynote speakers including Gian Fulgoni, CoFounder and Executive Chairman Emeritus of comScore; Matt Moog, CEO of Power Reviews; Peter Weedfald, President of Gen One Ventures; and Scot Wingo, CEO and CoFounder of ChannelAdvisor. Their extensive knowledge, experience, and influence in the online industry will address best online strategies and resonate with attendees on the trending topics of online channel and brand management.
Along with an outstanding lineup of keynote speakers, Compass 2014 features more than thirty notable thought leaders sharing their knowledge, including Cara Baldwin, Senior Legal Counsel, Global IP, eBay; Gene Zelek, Partner, Freeborn LLP; David Chandler, IPM Project Manager at World Customs Organization; Michael O'Hanlon, VP of Corporate and Business Development at Wayfair; and many more.
Compass 2014 Shares Methods to Improve Online Sales Performance
This year's conference promises to be the premiere educational experience for brands wanting to keep abreast of the newest and best online practices for brand protection, managing marketplaces, pricing policy, and retailer management both locally and globally. Throughout the two-day event attendees will hear from industry speakers and thought leaders celebrated for their knowledge and experience. Attendees will also have the opportunity to participate in panel discussions, interactive sessions, and networking lunches. At the close of the first day, attendees will have the opportunity to visit one of Chicago's premiere rooftop destinations, VERTIGO at the Dana Hotel, where Channel IQ is hosting a networking event for all attendees, and their 3rd annual innovation awards ceremony. Compass 2014 offers ample opportunities for attendees to make valuable connections with other industry participants.
For more information on Compass 2014, visit http://www.ciqcompass.com
About Channel IQ
Channel IQ is the leading provider of online price monitoring, brand protection, and retail management solutions to manufacturers, and retailers. Channel IQ provides real-time, online promotion and pricing information, empowering major manufacturers and retailers to quickly and profitably handle channel issues and competitive situations. Only Channel IQ combines integrated reporting, interactive applications and services to enable manufacturers and retailers to automatically act on real-time data. For more information, visit http://www.channeliq.com.
# # #