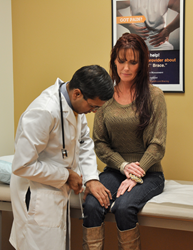 'Pain is a costly epidemic that causes millions of Americans to suffer and millions of dollars' worth of employee productivity to be lost.'
(PRWEB) August 31, 2014
Wisconsin Gov. Scott Walker has proclaimed September as Pain Awareness Month. According to the U.S. Bureau of Labor Statistics, chronic pain is the nation's primary cause of lost workdays. It affects nearly 100 million Americans, more than cancer, heart disease and diabetes combined.
To raise awareness of chronic pain and its treatment, Advanced Pain Management (APM), the Wisconsin chapter of the American Society for Pain Management Nursing (ASPMN) and the American Chronic Pain Association (ACPA) joined efforts to get the proclamation by the Office of the Governor. Through the proclamation, doctors with APM and representatives of ASPMN and ACPA hope to facilitate an improved quality of life for those suffering from pain and increase their access to appropriate pain management treatment.
"Pain is a costly epidemic that causes millions of Americans to suffer and millions of dollars' worth of employee productivity to be lost," said Dr. Yogendra Bharat, medical director of Advanced Pain Management. "Pain Awareness Month is intended to get Wisconsinites to recognize the symptoms of pain and get appropriate relief so they don't have to miss work or other activities."
According to Bharat, the most common type of pain is lower back pain, followed by severe headaches or migraines. It is estimated that 80 percent of Americans will suffer from back pain at some point in their lives.
Organizations supporting the Pain Awareness Month initiative will conduct a "Go Yellow" social media campaign, encouraging the public to wear yellow during September to help raise awareness.
Advanced Pain Management is one of the largest pain management groups in the country, with more than 30 board-certified/eligible physicians offering the most advanced techniques for pain control. Advanced Pain Management physicians operate out of more than 40 locations in Wisconsin, including metro Milwaukee, the greater Madison area, Racine, Sheboygan and Green Bay, as well as in Mankato, Minn. You can find Advanced Pain Management online at http://www.apmhealth.com, and on Facebook and Twitter.