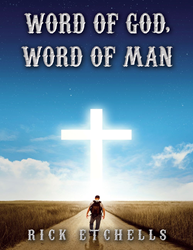 Aim at heaven and you will get earth thrown in. Aim at earth and you get neither. -- C.S. Lewis
(PRWEB) August 29, 2014
With all the controvery in the US over religion, war, prayer, worship and much more, TotalRecall Press would like to announce the release of "Word of God Word of Man" by Rick Etchells. "Word of God, Word of Man" combines the wisdom of the Bible along with that of man on a wide variety of topics and areas of interest to everyone. For each of seventy different topics it compares what God has said in His Word versus what men and women have said in popular quotations, along with a commentary of the author's personal experience to enlighten and inspire the reader.
The audience for "Word of God, Word of Man" is not limited to any particular group of persons. While written from a Christian point of view it would appeal to anyone seeking knowledge, comfort or inspiration. It can be used as a devotional, for help when facing situations in life or for general reading and enjoyment. The book can also be used as a pastoral aid in preparing sermons and for general Bible study.
Rick Etchells is a retired electronic packaging engineer with over 35 years experience in the Oil and Gas Industry. He holds a BS degree in Engineering Physics from the University of Colorado and a Master of Science degree in Human Resource Management from Houston Baptist University. He has been actively involved in teaching Sunday school and leading Bible studies for over twenty years. He also participates in numerous volunteer activities in the community through his church, Faith United Methodist in Richmond, Texas. In addition to his love of the Bible he has an interest in history and traveling the 2 lane roads of America.
Rick Etchells books can be found at Amazon.com, Nook, Kindle and TotalRecallPress.com.
TotalRecall Publications Inc. was founded in 1998 by Bruce Moran, a former NASA IT professional who transitioned into computer instruction and educational materials. The company began with the introduction of study guides and Q&A testing software for various computer and financial certification exams and expanded into library and information science textbooks in 2007. Since 2008, the publisher has been developing a fiction product line by debut authors that focuses on mysteries, thrillers, and military action. Additionally, TotalRecall has expanded into general nonfiction and now publishes more than 200 non-fiction and fiction titles, all distributed worldwide through book retailers and wholesalers and via eBook databases such as Proquest, EBSCO, and Books24x7.com.